Rabbi Lader Retiring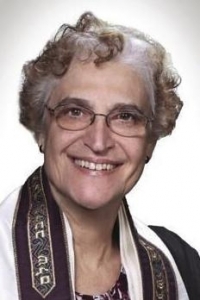 Lakewoodite Rabbi Enid Lader is retiring from being the spiritual leader of Beth Israel – The West Temple, located in Cleveland's west side, effective June 20, 2023. Rabbi Rachel Brown will take over beginning July 1, 2023.
During the weekend of May 19th and 20th, Shabbat services will have live musical performances, Friday evening Musical Erev Shabbat Service featuring the Ross Family String Quartet & Festive Oneg and Saturday Shabbat Morning Service with members of the Afro-Semitic Experience & Kiddush. The weekend celebration concludes with a retirement party with music by the Yiddishe Cup Klezmer Band.
Rabbi Lader served in her current role for thirteen years. In addition to serving Cleveland's west side Jewish community, she was involved with many multifaith groups that provided her with a platform to share a Jewish perspective with people who are non-Jews. Lader is a social justice activist involved in RAC Ohio, a coalition of Reform clergy across Ohio and Greater Cleveland Congregations. Her community leadership was recognized in 2018 as one of 18 Difference Makers by the Cleveland Jewish News, as well as the Academy for Jewish Religion for thirteen years of service. Lader previously led Beth Israel – The West Temple as Jewish Educator, volunteer religious school teacher, and high holiday choir director.
Beth Israel – The West Temple continues the legacy of female leadership. In 1972, Rabbi Sally Priesand, a graduate of Beth Israel's religious school, became the first woman ordained to the rabbinate in the United States. Board President Walter Wright says, "Rabbi Enid Lader is a pillar at The West Temple who has been a community leader in various roles for 40 years. Filling her shoes will not be easy, but Rabbi Rachel Brown is very welcoming and already embraced by our congregation."
Beth Israel – The West Temple's mission is to be a center of worship and vital community life where Jews and their families from Cleveland's western communities learn Jewish traditions and values, develop their Jewish identity, and assure the continuity of Jewish life.
Julia DiBaggio is the Vice President, Board of Directors of The West Temple.
Julia DiBaggio
Julia DiBaggio is the Vice President, Board of Directors of The West Temple
Read More on Religion
Volume 19, Issue 10, Posted 3:10 PM, 05.17.2023