Patty Ryan Left Her Mark On Lakewood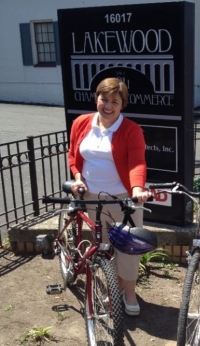 Patty Ryan was a 33-year citizen of Lakewood. She had been the CEO of the Lakewood Chamber of Commerce until July of last year, having to resign due to health reasons. Patty had been diagnosed in 2016 with breast cancer, and succumbed to this disease this past Saturday.
Patty was not a native to Lakewood. She grew up in Findlay, Ohio, went to Miami University, and in 1990 she and her husband Jamer moved to Lakewood when his job was transferred here from Indianapolis. She got her Masters in Human Resources and Labor Relations from Cleveland State in 1993, but stayed home to raise her 3 daughters, a husband, and three Golden Retrievers. That didn't mean she wasn't working for her community. Patty was involved in Pre-school PTA, Sunday school at St. James Parish, and was instrumental in starting the Lakewood Toy Lending Library. She volunteered at Lakewood Catholic Academy and was for years a Girl Scout leader. There are about 20 growing trees covering Arthur Avenue from a private purchase she organized in 1995 when the older trees on the street began to fall.
In 2005 Patty began her work with the Lakewood Chamber of Commerce. In 2012 she succeeded Kathy Berkshire as the Chamber CEO, a job she continued until this past July. What is now Lakewood Alive was sponsored by the Chamber and helped to thrive. During her time at the Chamber, many of our favorite Lakewood traditions were either started or revived. The Spooky Pooch parade, Light Up Lakewood, and the annual Taste of Lakewood were all results of her hard work and dedication. Patty served on the board at Lakewood Hospital, Lakewood Alive, and was involved in countless Lakewood projects such as the Downtown Business Alliance, West End Merchants Association, and the Beck Center.
Patty never wanted to take credit for any of these accomplishments, preferring to credit all those volunteers she convinced to work to make them successful. If you were a friend of Patty's, she got you working on something. It was a favor to her, but it benefited all of Lakewood. If you see a "Shop Small" sign, or a Chamber sticker in a business window, it was Patty who tirelessly promoted these programs within the city.
Patty wasn't big in stature, and was soft-spoken. That doesn't mean she didn't stand out in what she dedicated to Lakewood, and what her efforts accomplished. In these she was a giant.
James Ryan is a Lakewood resident and business owner.
James Ryan
James Ryan is a Lakewood resident and business owner.
Read More on Features
Volume 19, Issue 11, Posted 3:10 PM, 05.17.2023