Middle School Teams Earn Top Mock Trial Honors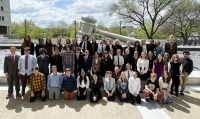 Garfield and Harding middle schools participated in the statewide Middle School Mock Trial Showcase sponsored by the Ohio Center for Law-Related Education on April 28. It was the first time since 2019 the showcase was held in the state courthouse in Columbus after three years of conducting the competition by Zoom. Teams from both schools won multiple "Best Attorney" and "Best Witness" awards!
Garfield's two teams together won two out of four possible "Best Attorney" awards and two of four possible "Best Witness" awards. Harding's two teams won two of four "Best Attorney" awards and two of four "Best Witness" awards.
Garfield's "Best Attorneys" were Liam Callahan and Zenovia Parkanzky. Harding's "Best Attorneys" were Sam Parker and Hank Janko. Garfield's "Best Witnesses" were Ona Bukys and Charlaice McDonald. Harding's "Best Witnesses" were Clover Griggs and Bridgid Sutliff.
Team scores are ranked into three tiers. Two dozen teams from districts across Ohio competed over two days, and only seven teams scored in the top tier. Both Garfield and Harding teams scored in the top two tiers. Both Garfield teams received a rating of "Superior" and both Harding teams received a rating of "Outstanding."
This year the middle school mock trials were based on the book "Holes "by Louis Sachar in which a main character suffers from a family curse that puts him in the wrong place at the wrong time.
In the competition, each middle school team subdivides into a prosecution and a defense squad, and prepares for two different trials against other Ohio middle schools. Students take on the roles of attorneys, witnesses, and bailiff/timers. The trials take place in front of real attorneys who act as trial judges and who rate teams on case understanding, professional demeanor, oratory skills and understanding of trial technique and courtroom procedure. Garfield and Harding had two trials running simultaneously in the morning, and repeated that schedule in the afternoon!
Special thanks to attorney Sarah Cleves, a Lakewood resident and senior claims attorney with ABA Insurance Services, Inc., who acted as a legal advisor for Garfield's teams, coached by Colleen Gromek.
Garfield's seventh grade participants were Rocco Awad, Ona Bukys, Kyle Bunsey, Liam Callahan, Emma R. Collins, Mia Dugan, Emma Dugan, Alvena Eh, Ivry Gunka-Woten, Rowan Johnson, Sophie Kovach, Luke Mackert, Gabriella Markiewicz, Charlaice McDonald, Elise Moran, Hailey Murawski, Zenovia Parkanzky, Christopher Pongracz, Kayleigh Saunders, Elizabeth Spear, Olivia Schumacher-Syvuk, Bipraviyani Thapa Chhetri, Lilith Toke, Landon Vincel and Emma Vinkovic.
At Harding, Sonja Kreps, Lisa Batkiewicz, and Nicholas Avila-John guided their 7th and 8th grade teams along with help from countless attorneys and judges present during the week of playoffs that decided Harding's teams. A special thank you to Dan Shields who not only judged during the playoffs but also coordinated the attendance of many of the lawyers and judges.
Harding's 8th grade students participating were: Maeve Andrews, Niko Banfield, Nathaniel Gage, Mikayla Jaissle, Solomon King, Harper Kinder, Sean Miller, Sam Parker, Hazel Smith and Bridgid Sutliff.
Harding's 7th grade students were: Aiden Barrett, Gabe Chaney, Ally Demaline, Peyton Diemert, Clover Griggs, Hank Janko, Jack Janko, Alana Johnson, Julia Myers, Charlie Rogalski, Charlotte Rogalski, Madeline Sheils and Alden Therrien.
Read More on Schools
Volume 19, Issue 10, Posted 3:10 PM, 05.17.2023