First Time In The Favelas, Brazil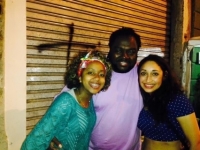 It was my first trip alone to another country. I was very excited about being in a place where they speak another language, Portuguese, which is very similar to Spanish, so I wasn't afraid of trying to speak, until got there, oh gosh! It was hard! Like I did understand almost everything but speak it? Not easy.
I stayed in a hostel with the intention to connect with other travelers and make some friends, that's how I meet Yuri, Brazilian street Artist. He was getting into the hostel with a bag full of cans of spray paint while I was asking directions to find a farmers market in the reception. He was on the phone talking about some project in the Favelas! and I was like: Yes, Favelas.
On my way to the farmers market, I was planning how I'd talk to him and make him take me there, because is very hard for foreign people to get in. You must ask whoever runs the place for permission which is unusual and it's very dangerous.
Around 7 pm, one of the guests, Nicolas, from Chile too, asked me if I wanted to go to a party in the street with live music, I asked if Yuri would join us, and he said yes. Nico thought that I had a crush on Yuri lol… Maybe! I was sure that we would become friends and I'd convince him to take me to the Favelas. It was my goal, like a dream, and I had a plan!
That night we went to "Pedra do Sal" at the entrance to a Favelas, full of people from everywhere, mostly Brazilian people of course, with live music, a lot of drums, food, and drinks.
I met Waldo who is a singer of samba rock, very interesting and great to dance to. And Helena, she is an amazing dancer. I was so impressed by her dance that she started teaching me. I loved it so much that at the end of the party I realized that I lost one of my sandals, good thing they were cheap lol.
When we were on our way back to the hostel, Yuri said that I'm a person full of joy, and I share that very well, so I thought, this is my opportunity! … I replied to him, "Would you like to visit the Favelas?" He was surprised and said: "I didn't know that you were interested in that, it's dangerous! But I didn't care, I was so excited about the adventure.
Next morning after getting breakfast, he invited me to try to get in. He had to ask if they would allow me, but since Yuri knew them, I was very confident.
When we got there, I remember there was a big hill, with a lot of houses everywhere, and a big white wall and a big black front door and a lot of people around. They were very curious about me there. Because they know their people, any stranger is easy to notice.
Yuri made me wait outside while he went to ask, and said "Do not move" and what did I do? I followed him, and my bad! There were a lot of big men, with guns and bags of things that I didn't recognize. I got frozen, scared and I just reacted saying, "Hola Amigos!" with a big nervous smile and they asked me with a mad expression if I was Argentinian, and I said: "Noooo, Chilena chi chi chi le le le!!!" And they started laughing at me and saying, "Amiga Bem-vindo." So long story short, they loved me! and allowed me to visit the favela anytime, just no photos.
We started walking with Yuri though the favela. It was unique to see a culture that doesn't believe in government, and has their own rules, like the police do not go there— they can't get though The Favelas. They have like another city inside, with clothes stores even.
It was very nice how children reacted to my presence there, they were naughty and shy trying to get a "Hi" or in Portuguese "Oi" from me and when I said it back, they were laughing and playing. I had this idea of bringing some candy from Chile so that I could share something from my country, and they were very happy, inviting me to play soccer and we ended up singing a song in Portuguese that they taught me. My heart was full of joy.
As we kept walking, we met Joao, a kid around 9 years, he wanted to me talk in Spanish and he was repeating me trying to learn. He was very sweet, kind of a mini tour guide, he explained to me that there was a lot of violence, like it was normal. His way of speaking was like he was way older. He took me to the top of the Favela to see the view of all of Rio de Janeiro, it was amazing!
A few hours later Joao asked me if I could walk with him home because he was late and his mom would not get mad if she saw me, so I said why not?
A big coincidence was that Yuri was about to start a new art painting on the wall right in front of Joao's house, so while Yuri was taking some measurements for his project, I went to say Hi to Joao's mom to help him out. Marissa, I will never forget that beautiful smile, when she saw me, instantly that smile Enlighted me! She hugged me and then looked at me and said: "What a brave lady, my neighbor told me about the curious Chilean visitor and here you are! Welcome to my home, you want to have dinner with us?" I was honored by her and of course I stayed. Her home was cozy and humble, and made me feel at home.
Around 7 pm it was starting to get dark so Yuri and I went back to the hostel. On the way back he invited me to go again before I went back to Chile so I could visit Marissa again.
I went before my trip back to Chile, and she made this frozen açaí for me, OMG! It was delicious and refreshing. We spent the afternoon with Joao and his mom, helping Yuri and playing music.
They may think that for me it was just another trip, but I will always remember them, their smiles, their happiness even in their situation. It makes me think about how important it is to appreciate simple things, sometimes we put so much of ourselves into thinking about what we desire, but we forget to value what we have.
Read More on
Volume 19, Issue 9, Posted 3:10 PM, 05.17.2023