CityMusic Cleveland Concludes 19th Season With A Grand Finale Concert In Lakewood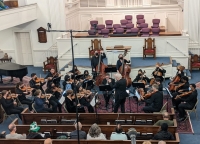 Haydn's elegant Cello Concerto in D soars under the bow of Edward Arron, together with orchestral works by Schubert, Mendelssohn and Chen Yi as CityMusic Cleveland's 2022-23 concert season comes to an end.

The final performance will take place at 3:00 p.m., May 21st at Lakewood Congregational Church located at 1375 West Clifton Boulevard.
CityMusic is delighted to welcome guest soloist and cellist, Edward Arron, a graduate of the Juilliard School and frequent performer on American Public Media's Performance Today. "We are thrilled to conclude our season with such a talented soloist and an exciting program," said Eugenia Strauss, CityMusic Cleveland's Executive Director. "Our free concerts and making classical music accessible to all has always been a cornerstone of our mission, and we look forward to celebrating our 20th anniversary by continuing to bring world-class music to Northeast Ohio's communities." This concert is free and open to the public. No advanced tickets or reservations are required.
For more information on the concert series, please visit https://www.citymusiccleveland.org/current-season.
About CityMusic Cleveland
CityMusic Cleveland is a professional chamber orchestra dedicated to making classical music accessible through free concerts and innovative programming throughout Northeast Ohio. CityMusic is also committed to advancing arts education access. The Clurie Bennis Children's Outreach Series presents interactive arts programs that tell unique cultural stories, performed in schools and libraries in Cleveland neighborhoods. For more information and to make a donation, visit citymusiccleveland.org.


Read More on Arts
Volume 19, Issue 10, Posted 3:10 PM, 05.17.2023