A Woman's Access To Reproductive Healthcare In Ohio: An Educational Forum By The Lakewood Chapter Of The League Of Women Voters Of Greater Cleveland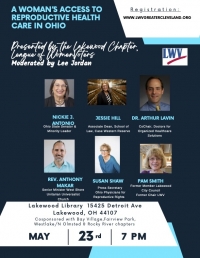 Please join the Lakewood, Bay Village, Rocky River, Westlake/North Olmsted, and Fairview Park Chapters of the League of Women Voters of Greater Cleveland on Tuesday, May 23 from 7-8:30P at the Lakewood Public Library (15425 Detroit Ave. Lakewood, Ohio) for a public forum.
This educational forum will be a moderator-led, panel discussion on access to reproductive healthcare in Ohio. Panelists from the legal, legislative, medical, media relations, religious, and democracy-preservation communities will update the audience with their knowledge and expertise. The conversation may explore the history, current state, and future possibilities of access to reproductive healthcare.
This is not a debate. It is intended to educate the community with the most current information available. Voters are encouraged to attend, gather, and evaluate the data to make informed decisions for themselves.
Cindy Strebig is a Community activist and concerned citizen.
Cindy Strebig
Community activist and concerned citizen.
Read More on Non-Profit
Volume 19, Issue 10, Posted 3:10 PM, 05.17.2023