New Family Education And Support Group In Lakewood For Persons Who Have Concerns About Their Loved One's Use, Misuse Or Addictive Use Of Alcohol Or Other Drugs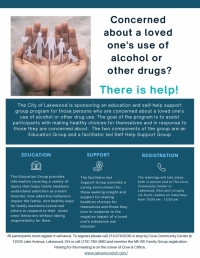 The City of Lakewood's Division of Human Services is doing something unique for the Lakewood community. Starting May 13th, the City will be sponsoring an education and support group program for parents, spouses, other family members and significant others who are concerned about a loved one's abuse or addictive use of alcohol or other drugs. With funds made available to the City of Lakewood from the Opioid Settlement, the Department of Human Services and City Administration made a strategic decision to make this program available to the residents of Lakewood and others who could benefit from it.
The weekly program offers education covering a variety of helpful topics, followed by a facilitator-led self-help support group. Created over 20 years ago by Jim Joyner, a Licensed Independent Chemical Dependency Counselor and Clinical Supervisor, who has worked over 50 years in the addictions field, the program was designed to help family members and significant others who are concerned with a loved one's use, misuse or addictive use of alcohol or other drugs.
Results from the 2021 National Survey on Drug Use and Health show that there are 46.3 million Americans 12 and older who had a substance use disorder in the past year. This would suggest that at least half of the families in America are impacted by a loved one's addiction related behaviors. Addiction not only impacts the person who suffers from substance use disorder, but also their family members and significant others. Because of the stigma surrounding addiction, many family members and loved ones are silent about their own suffering, anxiety, and depression over the illness of their loved ones. Thoughts like, "it can't happen in my family" or "it's just a phase they're going through" can and do fuel years of denial, during which time overwhelming emotional and financial difficulties take their toll on the family members.
Jim Joyner has conducted several in-person sessions in the Cleveland area – (Elyria, Lorain, Cleveland Heights, Bay Village, Mentor). I began to attend one of these support groups in August of 2019 when one of my loved ones was undergoing treatment at Stella Maris. Family members and friends were encouraged by Stella Maris staff to attend the support group to learn more about how to help their loved ones undergoing treatment for their addiction. My first meetings with the group were, for me, an unforgettable experience. I was petrified by what I learned at the meetings, while at the same time relieved to discover that a) this was a disease of the brain, not a fatal flaw in the personality of my loved one that I somehow may have contributed to; b) I was not alone in my experience; and most importantly, c) there was help for us loved ones who did not have the disease but were so terribly damaged by it.
Around me at the meeting were many other people who also had concerns about their loved ones' use of alcohol, heroin, cocaine, methamphetamines, or other drugs. Folks who had been attending the meetings regularly spoke openly about their own experiences, without making excuses for their loved ones or speaking unkindly about their behaviors. They were here because their own despair and frustrations had been recognized and were being addressed by the program.
Just listening to Jim Joyner's clear description of the science behind the disease, how it progresses, the changes that occur in the persons who suffer from it, the effect that the disease has on each member of the patient's family was as enlightening as it was relieving and comforting. I had seen many of the behaviors Jim described in my loved one; I had done many of the "enabling" things which I had thought I could do to stop the bizarre effects of the drug on my loved one, but which were, in fact, the natural progress of the disease. I too had been in anguish, I too had felt the utter despair and stomach-gripping fear that I may hear my loved one has committed some terrible crime, or worse, my loved one is dead because of an overdose!
After the education component of each session, Jim begins the "support" portion of the meeting, where he facilitates group discussion which relates to the educational piece he just covered. During those first support group sessions I attended, I learned that others had experienced many of the things I had. After my first few meetings, I worked up the courage to speak of my own experiences and ask for advice from my group. Their sometimes-raw descriptions of their own experiences helped me see exactly how addiction can ravage a person, resonating with my own experience with my loved one. I was not alone in feeling frightened and bewildered; but I also saw people who had begun to overcome their fears, find answers to their confusion and despair.
The ME/WE Family Education and Support Program is a series of 12 sessions which a group participant can attend as many times as he/she wishes to attend. The sessions are weekly and continuous, starting over at session 1 when the series of 12 is completed. Participants can join at any time in the cycle. Jim encourages participants to at least go through one complete cycle, and gently urges us to stick with the program - "Attend till the miracle happens," he says. And the miracle does indeed happen! I myself have experienced it not only in my own life and the life of my loved one who is now in recovery but have witnessed it happen to numerous fellow participants in my group. For me, it felt as though I had come out of a long and terrible nightmare. I had slowly begun to retrieve myself from what was almost an obsession with what was happening to my loved one; retrieving and regaining myself to be able to sleep better, live better, grow!
When COVID hit, Jim had to revert to online meetings of the group through Zoom. To his and everyone's amazement, the ME/WE Education & Support Group program's impact literally exploded! The Zoom meetings turned out to be both convenient and easily accessible. After almost 3 years, Jim now has Zoom sessions three times a week. Family members have joined from across the country – today there are participants from 33 states attending at least one of the offered sessions. Some folks attend multiple sessions every week. The meeting has become an important part of my own weekly mental health management routine.
Thanks to the City of Lakewood's decision to sponsor this program through a portion of the Opioid Settlement funds, our very own Support Group will begin meeting here at the Cove Community Center on Saturday mornings in May 2023. Participation is free, but registration via phone is required. For more details about the program and ways to register for the meetings, please see the ad in this issue of The Observer or visit the City of Lakewood's website or social media pages.
The meeting in Lakewood will be a hybrid version – both in-person and via Zoom. It is open to anyone in the community. If you are someone who has concerns about a family member's use or abuse of alcohol or other drugs, or have felt isolated in your feelings of helplessness, fear, anxiety and despair, this group may be what you need! The group is "anonymous" in that only first names are used; proceedings, conversations and discussions at the meetings are confidential.
What distinguishes this support group from other family or individual support groups is the education component. Learning more about your loved one's disease and the advances in scientific approaches to understanding and treating addiction help to begin the healing that needs to occur within the family as well. Separating yourself from your loved one's disease, understanding that the disease is not your "fault", or yours to "fix" or "fight", brings the kind of relief and stabilizing that is needed to begin the healing of your own "dis-ease" that has built over the years of struggling with the repercussions of living with and loving someone with this disease.
After almost four years of attending the ME/WE Family Education and Support Group, I am convinced that healing my mental, emotional, and spiritual self was needed before I could be of any real support or help to anyone else. I believe that this healthy approach to my own anxiety and depression indirectly supported my loved one's path to healing and recovery. I am renewed and hopeful. I know more about addiction, but I also know that this new knowledge bolstered by the human connection through the support and love of others who have shared your pain can result in healing and hope.
Chitra Walker is retired and has been a Lakewood resident for over 20 years.
Chitra Walker
I am a Lakewood resident for over 20 years, and am retired.
Read More on Lakewood Health Care
Volume 19, Issue 9, Posted 12:21 PM, 05.03.2023