LHS Girls Soccer 2023 Pre-season Begins!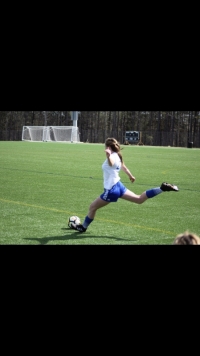 With the end of the school year approaching, the Lakewood High School Girls Soccer Team begins their pre-season training to get ready for the upcoming 2023 season. The Girls Soccer Rangers are coming off of an impressive 12-5 season, a Great Lakes Conference East Championship and are looking forward to continuing that success in 2023. Beyond the playing field, our girls have had 2 recent Presidents of the National Honor Society, multiple class officers, and an astonishing Team 4.0 GPA, which the Athletic Director said was the first time for a large team of 30+ players in LHS history. The team starts with Captain's Practices at LHS Stadium, June 5, 9:00-11:00 am. Part of the great success of last year was our very talented senior class of 14 girls. Our task now is to replace that number with talented soccer players or aggressive athletes willing to learn.

The long-term health of our program is reliant on a motivated and knowledgeable population of families/ girls participating in various youth soccer programs offered by Lakewood and the surrounding area. Obviously, the younger kids start playing, the better their chances of playing in high school, but a really good athlete can often catch up if they start playing, love the game and really want to play in high school. So, just because you haven't played in the past, doesn't mean that you can't catch up. With that in mind, I would like to review the opportunities in this area to play soccer. The "entry level" of soccer in Lakewood is Lakewood Soccer Association (LSA) Saturday Soccer. LSA offers Saturday Soccer in the fall and spring and is played in the Metroparks on Saturday mornings. It is a fun introduction to the game of soccer and kids really learn to love the game playing in LSA. For information and registration go to: https://www.lakewood-soccer.com

The next level for the soccer player who really loves playing and is looking to further develop is "Travel Soccer" and that is represented by Lakewood United Football Club (LUFC). LUFC has teams starting at U9 and are split between boys and girls divisions. Players from 7-14 can join a team that exposes players to a higher level of coaching and competition. Players play for their community team against other, local community teams. There are different ability levels with multiple teams in the same age group to accommodate different levels of player ability. These teams usually practice twice a week and have a single game a week, usually. Contact: https://www.lakewoodunitedfc.org

The final level of development is called "Club Soccer" and generally, if you are serious about soccer, you're heard about Club Soccer. Club Soccer has a broad array of teams and abilities ranging from similar to Travel up to players looking to compete for the National Team. So I won't spend much time talking about this other than to say, it's the next step for the serious player and many club players play in high school. That said, Lakewood High School is still very much a "community team." While we have many girls with Club Soccer experience, we have also had players who played Saturday Soccer only and contributed to the team and the organization.

Before closing, I want to make a direct appeal to parents and players in LSA. If your player really loves the game, get in touch with LUFC. That is the logical progression in development. The two organizations are not in competition and are here in the community to help develop the love of the game for all kids. Many players continue to play at two levels: Rec Soccer and Travel Soccer or Travel Soccer and Club Soccer. This allows players to continue to play with their friends but advance in their abilities (and make new friends) at the next level. If there are graduating 8th Grade girls interested in playing soccer in high school, please contact Coach Ted Nagel at TJNagel84@gmail.com. If you have younger girls and want them to learn to love staying in shape and competing, please contact LSA of LUFC.
Ted Nagel is the Lakewood High School Girls Varsity Soccer Coach.
Ted Nagel
Ted Nagel is the Lakewood High School Girls Varsity Soccer Coach
Read More on Sports
Volume 19, Issue 9, Posted 12:21 PM, 05.03.2023