Lakewood Women's Club Supports Local Businesses During Its Annual Progressive Dinner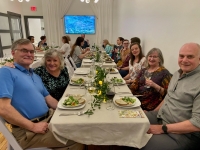 The Lakewood Women's Club (formerly known as Junior Women's Club of Lakewood), founded in 1962 with roots going back to the early 1900s, has provided, and continues to provide, a philanthropic organization for women who are interested in serving their community while enjoying a program geared to fun and friendship.

To serve its theme of fun and friendship, each year the club hosts an annual progressive dinner for our members and community guests. A progressive dinner party, it's a multi-course dinner served at multiple houses where diners travel from house to house, eating a single course at each of the destinations.

This years' progressive dinner started out at Torey Worron's (current member and past president) home for appetizers and drinks portion of the evening. The night's festivities continued at The CoLab on Madison Ave for dinner prepared by Chef Jack from the catering company "In Your Place". The CoLab, a new fun Lakewood business owned by Maureen Koopman, is an extension of your home — a space that's fun, vibrant & welcoming. It was the perfect place for our dinner. And, in keeping with our theme of supporting women in Lakewood, we wanted to support Maureen who is also one of our 2022 Women Honoring Women Business Nominees. Our evening was made complete as we finished the night with decadent pie and coffee from the pie bar at Rood on Madison. Another one of Lakewood's cool and hip restaurants.

In keeping with our goal of having some fun while also doing some good, everyone had a wonderful time while we also raised money for this year's Lakewood female college scholarship.

One of our new members, Rachelle Loraine says, "Lakewood Women's Club is a phenomenal place to get to know women from our community that I wouldn't typically meet. All ages, walks of life. We all hold the core goal of helping our community and empowering young women by awarding scholarships. I'm not originally from Lakewood, so the opportunity to make friends and form bonds was very appealing to me. We have fun get-togethers, the Progressive dinner was a blast. It's a group of people who love to have a great time, maybe a few cocktails and enjoy yummy food. You can't beat that!"

Cindy Einhouse, who also attended the event and is one of our Honorary Members commented: "It may have been about 20 years ago, but I remember the first event I ever attended for the Lakewood Women's Club was the Progressive Dinner. Over the years, this group has continued to be relevant in my life, and its members are among the most enjoyable, professional, dedicated women I have ever known. The progressive dinner this past weekend was another great opportunity to engage with women of diverse ages who share the value of community involvement".

This progressive dinner, and our annual scholarship, awarded to a female high school senior pursuing a higher education, are just two of the many ways the Lakewood Women's Club supports Lakewood. Through our fundraising efforts, highlighted by our annual fundraiser - Women Honoring Women - LWC has awarded scholarship money to deserving high school seniors as they pursue their education for over 30 straight years!

Ellen Todia, another one of our Honorary Members who attended the dinner, commented, "Back in 1993, the JWCL (Junior Women's Club of Lakewood) established an annual scholarship, open to Lakewood women graduating from high school who were planning to continue their education at the college level. I was excited to be the first chair of the newly-formed Scholarship Committee, and we established the framework, rules, and application process. In the spring of 1994, the club awarded its first scholarship. It's hard to believe that happened 30 years ago! I am thrilled to know that this scholarship is still being given out every year. It has helped so many young women – women who were at or near the top of their class academically, but in need of some financial assistance to help them pursue their dreams and goals at the college level. I know it has made a huge difference for these young women, and I am grateful that the club carries on this important work today"

With so many inspiring young ladies in this community, we are happy and proud to continue this tradition after all of these years by announcing soon the recipient of our 2023 scholarship! Stay tuned!
If you would like to know more about or join this amazing group (The Lakewood Women's Club) please visit our website at www.lakewoodwomensclub.org or check us out on Instagram or Facebook. If you would like to contact us directly we can be reached at lakewoodwomensclub@gmail.com.
Torey Via Worron Lakewood Women's Club WHW Chairperson Mom to Tully Worron College Student-Temple University Business owner/partner Trikeable Treats with Jeff Worron.
Torey Via Worron
Torey Via Worron Lakewood Women's Club WHW Chairperson Mom to Tully Worron College Student-Temple University Business owner/partner Trikeable Treats with Jeff Worron
Read More on Non-Profit
Volume 19, Issue 9, Posted 12:21 PM, 05.03.2023