The Empty Seat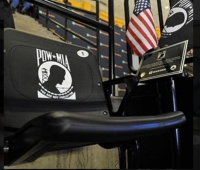 I would like to spread the word of a national program that quietly brings attention to our service members who were prisoners of war and those who are still missing.

Rolling Thunder, Inc. National POW-MIA Chair of Honor Program is intended to bring daily reminders of the POW-MIA issue to cities and towns all across the nation.

The POW-MIA chair in any location is to remain empty to help people remember and represent those service members who are unable to fill them. Boston became the first city to have a Chair of Honor at ALL of their professional sports venues back in 2013.

Chairs and their accompanying plaques can be customized and personalized for various venues but all have the POW-MIA logo with a message of "You are not forgotten. Since World War I, more than 92,000 American soldiers are unaccounted for. This unoccupied seat is dedicated to those brave men and women and to the sacrifices each made in serving this country. God Bless You. God Bless America."

Surrounding communities have jumped on board with this and I am surprised that in 2023, Cleveland and Lakewood have not yet. Every city in America should have one.

With Memorial Day approaching before you know it, it would be nice to have these chairs in place at the First Federal Stadium at Lakewood High, Progressive Field, First Energy Stadium, Rocket Mortgage Field House and the Wolstein Center in Cleveland. For more information on how to purchase/secure a Chair of Honor contact:
Paul Rader, National POW-MIA Chair of Honor, Email: praderny@gmail.com

As a Lakewood resident and veteran of the Vietnam War, Bill Snorteland looks forward to attending dedication ceremonies in the near future.


Read More on
Volume 19, Issue 5, Posted 8:21 PM, 03.01.2023