Roundstone Pulls Out Of Holespital Deal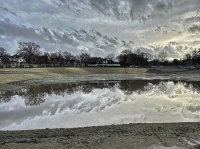 On February 13, 2023, social media erupted with the "disgrace of the City losing the Roundstone deal." It had that ill-informed outrage over something-- anything-- kind of tone.
So I made some calls and talked with some people just to get the record straight.
The short story: the deal is not dead, but Roundstone did get a better offer in their hometown of Rocky River. While not official, that is believed to be the chosen site out of four others that emerged.
From the beginning Roundstone had wanted complete ownership and control of the project which was something the city of Lakewood never offered. What was agreed to originally, in principle, was that Roundstone would have condo-style ownership of 4 floors of the office space.
Over the ensuing months, things went back and forth through many public meetings, principles, boards and other participants. It was during this period of time that other offers were put forward, and all allowed Roundstone complete ownership and control of their site.
The good news is that 90% of the city was on board with the original plan and were working together towards a common goal. This is a very good sign that bodes well for their approach heading into the future with this project.

Jim O'Bryan
Publisher, Lakewood Observer, Inc.
Read More on
Volume 19, Issue 4, Posted 12:20 PM, 02.15.2023