Barbara's Bests: The Root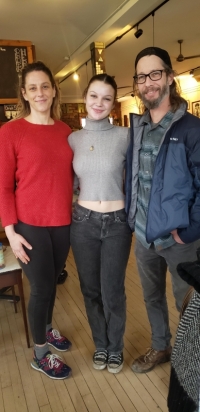 If you want good food in an interesting setting visit the coffee shop and restaurant, The Root. When owners Julie Hutchison and Bobby Breitenstein opened it in 2009 they had a vision for the place. It would be a family busines. It would be "a gathering place," says Julie, "where people would find comfort" and inspiration from interesting conversations and the works of local artists that would hang on the walls.
Of course, they'd have coffee and teas.

And they'd have food. Delicious, vegetarian food."We knew we'd need a big kitchen," says Bobby. "We do everything from scratch. We make our own sauces and bakery items. We even make our own cheeses." They'd use as much locally-grown, organic produce as possible, buying from local farmers who don't use pesticides.

And it's not only the food that's home-made. Bobby, a carpenter, made a large concrete table that sits in the back, and all of the small tables customers also sit at.The bench seating at the concrete table, which Bobby also built, was fashioned from a church pew. Wood for shelving came from a local home built in 1857
.
And The Root is truly a family business. Julie and Bobby's 18-year-old daughter Hazel works behind the counter when she's not busy with college studies. Son Gabriel, 16, works on carpentry with his dad.
Two objects in the seating area of The Root indicate the family's dedication to the people of Lakewood: a refrigerator and wooden pantry. Both hold food, but the food's not for sale. Instead, it's been donated, and is there for anyone who needs it. "There's always enough," says Bobby. He and Julie began this practice during the early part of the pandemic, when so many people, including those in the food industry, were out of work.

Besides Lakewood's citizens, what do Bobby and Julie like most about our city? "The Lake and the river," says Bobby. "And the accessibility is awesome. You can walk just about anywhere."
"Lakewood has a lot of great community programs," says Julie. "H2O, Lakewood Alive, the new community Center on Clifton and Cove, which has lunches for seniors, and the Lakewood Family Room. Lakewood does a great job of taking care of its citizens." So does The Root.
The Root Cafe is located at 15118 Detroit Avenue
Barbara Raymond is a Lakewood resident and author of nonfiction book, "The Baby Thief: The Untold Story of Georgia Tann, the Baby Seller Who Corrupted Adoption."
barbara raymond
Lakewood resident and author of nonfiction book, The Baby Thief: The Untold Story of Georgia Tann, the Baby Seller Who Corrupted Adoption.
Read More on Features
Volume 19, Issue 4, Posted 12:20 PM, 02.15.2023