Two From Lakewood Inducted Into Journalism Hall Of Fame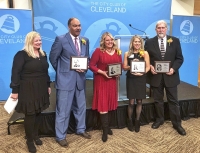 Deb O'Bryan:
Last month I had the pleasure of seeing two people from Lakewood inducted into the Cleveland Press Club Journalism Hall of Fame-- a place where luminaries like Dorothy Fuldheim, Nev Chandler, Chuck Heaton and Louis B. Seltzer hang out!
First up was my fellow Lakewood High School Class of 1980 graduate Mary Kay Cabot. Mary Kay grew up watching the Browns on Sundays with her dad, Joe Cabot, who was a Lakewood Fireman. Her love for Cleveland sports grew from him. Mary Kay is best known as the Cleveland Browns beat reporter. What most do not know is that it was Mary Kay that broke ground for women covering football and sports. Everyone sees that as the norm now but it was unheard of when she got her start with the Plain Dealer in 1984 after graduating from Kent State University. Diminutive in stature, Mary Kay had to work harder to be recognized in the male dominated field of sports writers, gradually earning the coaches' and players' trust to become the longest tenured NFL beat writer in the country. She is also among the 49 elite selectors of the Pro Football Hall of Fame.
Today, besides covering the Browns for the Cleveland Plain Dealer/Cleveland.com, she is also an analyst for WKYC-TV3, she appears on ESPN and numerous radio stations, and she co-hosts the Orange and Brown Talk Podcast. She is married to former Lakewood resident Bill Murman, and is mother to three children.
Lakewood is so proud of you, Mary Kay!
The other Lakewood native I am proud to announce is my husband of 37 years, Lakewood Observer Founder and entrepreneur Jim O'Bryan. Always marching to a different tune, Jim has been a dynamic force in every endeavor he has pursued. From being one of the first to bring back hot dog carts to Cleveland in the 70's, rebuilding and managing clubs and discos, to running Racing For America, a motorsports program designed to promote young American drivers around the world. Jim was inducted into the Cleveland Press Club Hall of Fame for helping to start local Citizen Journalism in Ohio.
Although Jim had no previous journalism experience, he did have knowledge of publishing. Working at B.P. America in the 80s and early 90s, Jim honed his skills as a designer and photographer earning himself six Silver Quill Awards for the production of The BP Express, an internal, global publication. After leaving British Petroleum, Jim and I started our own business, A.Graphic Solution. Happily doing graphics, signage, silkscreening and photography, we never expected to start a newspaper... but I'll let Jim finish this story.
Jim O'Bryan:
Back in October I received a call from Carol Kovach of the Press Club of Cleveland. Carol was calling to say that I had been chosen to be inducted into the Press Club of Cleveland Journalism Hall of Fame for the Lakewood Observer and all of the Observer papers I had created along the way. She went on to say,"We believe you started Citizen Journalism here in Ohio, if not in the country!" While I was honored and taken aback, I thought back to the nearly 20 years that have unfolded. Instantly I said to her, "I do not go in without acknowledging the people that have helped to start the Lakewood Observer, and have taken part. Because, without an engaged community, this project would not have been possible." She agreed.
The actual induction ceremony was held on November 16th. A humbling experience, as I joined ranks with true journalists who I have looked up to and admired. Being honored alongside Rick Jackson of Ideastream, and Mary Kay Cabot who is the face of Cleveland Browns coverage was unreal. As I mentioned in my acceptance speech, I don't belong in the Hall of Fame by myself, but with everyone that has contributed in some way, and I will take them with me.
Then we started the long process of collecting the names of everyone who has taken part. After all, we all know it doesn't mean a thing, until it is in print. So here in the first issue of 2023, we all walk through the door of immortality forever, and I couldn't think of a better crew to walk through the door with!
The printed version of the Lakewood Observer began as a discussion board, still called the Observation Deck. It was started shortly after Lakewood's civil war over what was a strip mall proposal for the west end of Lakewood that would have changed Lakewood forever. Known as the West End Project, it would have forced 1,500 out of their homes. During the course of the online civil war, we had battles that were way over the top. The very early days of social media where conversations were being twisted and used for political gain. Later, I learned one person on one side was using 5 names, and 5 people on the other side were using one name so they could answer the troll using 5. What also bothered us, the core group, was that most of the "facts" presented by City Hall and their blind supporters had no basis in fact. Soon the public saw through the lies, and voted to stop eminent domain and the project.
The discussion board ran smoothly with everyone using their one, real, vetted name. Unheard of at the time, it was a way for better penetration. On a good day we were rivaling Cleveland.com for traffic, but we knew we were leaving behind 60% of the population who needed the same information as those online. So DL Meckes, Stephen Davis, Kenneth Warren, Heidi Hilty, Dan Slife, Stephen Calhoun, Bill and Jan Davis, Mike Deneen and others held a series of meetings discussing what we should do and could do. After all, it had to be easy to run, sustainable in every sense and fun.
We came up with the print version of the Lakewood Observer. A product we could deliver to doorsteps and put in people's hands. It had been nearly 20 years since Lakewood had a paper with their name on it. We would bring one back FREE for everyone. Immediately we realized that without a budget or money we would not have a real staff and office. We also realized two things: Lakewood was filled with people that had great stories and skills. Over the course of the next year, with Dan Ott and Rami Daud, we hammered out the software to make publishing a community newspaper driven by residents a reality.
It was shortly after the completion of the software I got a call from Future Heights in Cleveland Heights, they wanted a paper like the Observer in their city. At this point, there was no thought to other papers. Members from Future Heights were taken through the start-up process. This paper would be run by a non-profit, a first for the group and much of the print industry. It went up and started publishing papers within months, proving that the project could easily be set up in other communities.
After the Heights Observer's first year, The City Club of Cleveland was hosting a luncheon discussion on "The Death of Print Media" presented by Lauren Fine, a print media consultant for Merrill Lynch. When asked at the end of a very sobering presentation, "Is there anything that can succeed?" her answer shocked everyone: "A small paper in Lakewood seems to have a business plan decades ahead of others."
Lauren challenged me and the Observer to start papers in other communities. In quick succession, Collinwood was launched with the help of Mike Polensek and Betsy Voinovich who joined the Observer team. Next came Westlake, Bay Village, Parma, Seven Hills, Independence, Euclid, Rocky River, Ohio City (2 papers, Argus and Observer), The Healthy and Humane Observer for Northeast Ohio, along with the Great Lakes Courier (a biking enthusiast publication). I was getting approached by JumpStart, the Cleveland Foundation and others about new projects, about financing the company and taking it public.
Over the next two years, I met with many investors -- in retrospect none cared or even understood the soul of the project. It became obvious, all they wanted were cheaper ways to cover or control the news. I had become disillusioned with people coming in to study the Observer then leaving and starting knock-offs like "Patch," "Neighborhoods" and others that had nothing to do with a community's needs, news, or saving journalism. Instead it was all about profits, slashing costs, and control, always the control. The original thought was that papers like the Lakewood Observer could fill the small often costly gap in larger papers. Wall Street had already decided the best way to run a newspaper was with a skeleton staff, no printing, no delivery-- just more profits.
Today nearly 20 years after the first print edition rolled off the presses, the Lakewood Observer continues to run smoothly, with many thanks to Deb O'Bryan who runs the day-to-day business side of the Observer, and of course the Lakewood community which continues to show up and add their stories and photos. Ken Warren and Steve Davis, my brothers in this who I miss terribly, I believe would be very proud of our accomplishment.
It continues to be a gift from one group of residents to our fellow neighbors. One thing I make clear whenever I speak of the Lakewood Observer and our success, is that I am lucky to be in Lakewood; we have an intelligent, talented community that loves living here. I also make it clear that without the volunteers, basically all of us, we would not have been able to repeat this dance of love, respect and story-telling for nearly twenty years and 400 issues.
This has been accomplished, by all of us working together for a better understanding community, our history and our future. With that in mind I give you the list of people I am taking with me into the Cleveland Press Club Journalism Hall of Fame. Let this be a written record of our thanks and gratitude for each other and what we have done, together.
From one Observer to another, Peace & Love.
Please consider joining this history-making and recording project. It works best when we do it together.
Read More on
Volume 19, Issue 1, Posted 6:06 PM, 01.04.2023