Rangers Fall in "Battle of the Bridge"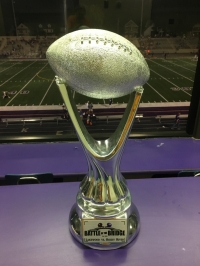 The Lakewood football team fell 38-12 to Rocky River on Friday night at First Federal Lakewood Stadium. River senior running back Johnny Bebie had three touchdowns to lead the Pirate victory. The Pirates reclaimed the "Battle of the Bridge" trophy after losing it to the Rangers 21-14 in 2021.
The Pirates used some special teams trickery to get an early lead. Their initial drive stalled at midfield, resulting in a 4th and 7 play. They lined up to punt, but instead senior Mack Massad ran for a first down. Rocky River then drove down the field, scoring its first touchdown on a one yard run by junior quarterback Julian Patti with 7:18 left in the first quarter. Massad's extra point made the score 7-0 Rocky River.
After an exchange of interceptions, River extended the lead. Bebie scored on the first play of the second quarter, carrying the ball 15 yards for a rushing touchdown. Massad's conversion made the score 14-0. Lakewood responded on the next drive, going 68 yards for a touchdown. Junior quarterback Alex Symons completed a key 35 yard pass to sophomore Jaylen Chappell on a third down. Symons capped the drive with a 14 yard TD pass to senior Nick Patsouras. The score was 14-6 with 7:59 remaining in the first half.
Bebie struck again late in the first half, running 23 yards for a touchdown with 3:33 remaining on the clock. That stretched the lead to 21-6 in favor of the Pirates. River added a late Massad field goal to make it 24-6 at the halftime break.
Lakewood received the second half kickoff and held the ball for six minutes on its opening drive. However, they failed to score and punted back to River. Bebie struck again on the Pirates first offensive play, running 72 yards for his third touchdown. Massad added the extra point to make it 31-6.
The Pirates added another touchdown in the final minute of the third quarter to make it 38-6. This set the OHSAA "running clock" rule into motion. The Rangers scored on the final play of the game, as Symons ran for a one yard touchdown when the clock expired. That made the final score 38-12.
Lakewood (2-2 on the season) returns to action next Thursday at Byers Field against Normandy. The Invaders, 3-1 this year, defeated Fairview 42-7 on Thursday night at home. Kickoff is scheduled for 7pm.
Mike Deneen
Mike Deneen has extensive experience covering sports and community stories for the Lakewood Observer. Mike was a Senior Industry Analyst for the Freedonia Group in Cleveland, Ohio for 17 years. He has appeared on CNBC's Closing Bell, NPR's MarketPlace and has been quoted multiple times in The Wall Street Journal. He has made multiple guest appearances on ESPN Cleveland radio. Mike has also written for Inside Northwestern, a website that covers Northwestern Wildcat Athletics. You can reach him on Twitter at @MikeDeneen1
Read More on Sports
Volume 18, Issue 18, Posted 11:16 PM, 09.09.2022