Emerson Student Throws First Pitch At Guardians/Orioles Game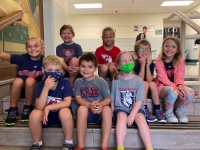 Emerson students and staff were decked out in Guardians gear and colors in support of 1st grader Simon. Simon threw out the first pitch at the August 31st game versus the Orioles as part of the Empower Little Heroes program, which works with the Cleveland Clinic Children's Hospital. We're all rooting for you, Simon!
Christine Gordillo
Simon. (pictured in CLE shirt in center).
Read More on
Volume 18, Issue 17, Posted 5:29 PM, 09.07.2022