Supplies4Success Drive: Donate Today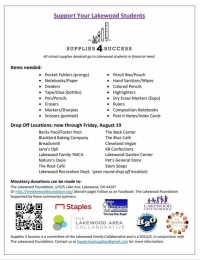 It's that time of year, Lakewood Friends. School supply donation boxes are out around town. If you are able to pick up an extra item or two or just like shopping for school supplies, Supplies4Success would be happy to receive your donations.
We welcome a few new businesses to our collection sites this year. Jana's Deli, Cleveland Vegan, and The Blue Cafe.
We thank our returning sites for their continued support: Becks/Foster Pools, The Beck Center, Blackbird Baking, Breadsmith, KB Confections, Lakewood Family YMCA, Lakewood Garden Center, Nature's Oasis, Pet's General Store, The Root Cafe, and Stem Soaps, as well as the following church's: Lakewood Congregational, Lakewood Presbyterian and Lakewood United Methodist.
If you know of a location that would like a collection box, please let us know at lkwdschoolsupplies@gmail.com.
Thanks, Lakewood!
Read More on
Volume 18, Issue 15, Posted 6:58 PM, 07.20.2022