New Track Records Set At LHS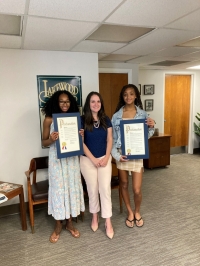 Mayor George recently presented proclamations to Lakewood High School athletes Kaydence Doxley and Charieon Doxley. Both broke school records during the 2021-2022 track season.

Chareion Doxley broke the Lakewood High School Indoor Track & Field record in the Long Jump at 16'01" as a freshman.

Kaydence Doxley is a rising Junior and finished the 4x20 meter race in 3rd place setting a new school record of 1:44:59. Kaydence also competed at the New Balance Nationals for Outdoor Track in Philadelphia in June of 2022 representing Lakewood High School.

Congratulations Kaydence & Charieon!
Read More on
Volume 18, Issue 15, Posted 6:58 PM, 07.20.2022