Lakewood Women's Club Awards Scholarship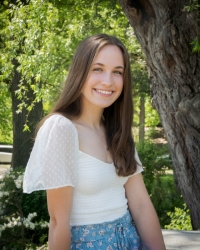 The Lakewood Women's Club is excited to share that we've awarded a $3,000 scholarship to a graduating high school senior. Applications were reviewed by a group of Club volunteers, and the student winner was selected based upon her academic achievement, financial need, and other eligibility requirements.

"This year we saw a deep field of scholarship applicants filled with students on their way to doing great things. It was an amazing process to participate on the scholarship review team, and I am grateful to the rest of our volunteers for taking the time to learn about each applicant and make some tough decisions. Each applicant embodied the traits of a student empowered to soar. We are proud to support our winner, Teegan McGann, as she takes the next steps on her education journey."
—Carla DePhillips, LWC Volunteer

This year's winner, Teegan McGann, graduated from Lakewood High School with a 4.545 GPA. Teegan plans to major in business at Miami University beginning in the fall. She is leaning toward business economics or analytics, as she has a high aptitude for math and enjoys working with equations and solving problems. Teegan was very active in her four years at Lakewood High School, as a member of the National Honor Society, the all-girl Symphonic Treble Choir, the Concert Choir, and Help 2 Others. She also ran with the Cross Country, Indoor and Outdoor Track Teams, and was a team captain for all three teams. Outside of school, Teegan found time to participate in parish life at St. Luke's Church, Young Life, and volunteer with organizations including The Ronald McDonald House, Home Alone and the Lakewood Youth Running program. On top of all of those extra-circulars, Teegan also worked at Ennis Court, and babysat.

Teegan's personal statement was a compelling element of her application. The volunteers who reviewed her application commented on the maturity and enthusiasm with which she wrote.

"Anyone with just enough empathy and heart can change the world – and that anyone is me. I believe that with just enough empathy, there lies just enough motivation and drive to make a change in our world. Given the resource available to me at Miami, I have no doubt that I can make an impact on the world."

–Teegan McGann, 2022 LWC Scholarship Winner

The LWC Scholarship is awarded annually to a female Lakewood student graduating from high school, and pursuing additional education, whether college, vocational, technical or community college. The amount awarded varies, and is dependent upon the Club's fundraising efforts throughout the year. To support the 2023 scholarship fund, please consider attending our 5th Annual Women Honoring Women event, to be held at Vosh on September 22, 2022 at 6:30 p.m.. For more information on this event, please visit: https://www.eventbrite.com/e/women-honoring-women-tickets-374820918457

LWC is proud to support Lakewood women as they pursue further education. The Scholarship Committee would like to thank all of the applicants for taking the time to apply for this year's scholarship award. We wish all of the applicants much success with their college efforts.
Margaret Wetzler is a lifelong Lakewood resident, home owner, good neighbor, avid gardner, and member of The Lakewood Women's Club.
margaret wetzler
Life long Lakewood resident, home owner, good neighbor, avid gardner, and member of The Lakewood Women's Club
Read More on Non-Profit
Volume 18, Issue 14, Posted 7:00 PM, 07.20.2022