Fourth Of July In Lakewood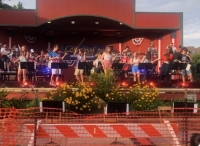 Parachute into thousands of places in the US and you will be blitzed by a mind numbing sameness of subdivisions, strip malls and chain stores. The causes of this boring homogeneity are varied and complex, but one element—the emergence of the automobile industry—is at the center. Want to escape the dullness? Find a community that developed before the dominance of automobiles.

This is why if you spend the day in Lakewood, especially on July 4th, you will know where you are. We are lacking many things. You wont find subdivisions or cul-de-sacs (save those that dead end into Lake Erie), big box scores are absent, there is an identifiable downtown, and the family-owned business is not a faint memory. Century homes are everywhere, and front porches and sidewalks are the norm. The parade is hometown all the way, led by my favorite element—the Lakewood Ranger Marching Band—followed by a blend of community groups, Military Veterans, politicians, etc.

The Lakewood fireworks are spectacular, but there is nothing particularly unique about them—but a festive, full Lakewood Park is quite the scene, especially when...at 7pm the incomparable Lakewood Project takes the stage. You know immediately that you are experiencing a one off—nothing like it anywhere else. Thirty plus LHS students, who practice hour upon hour as part of an extra-curricular activity, led by Dr. Hankins and her crew, bang out nearly 3 hours of high energy songs. The eclectic blend of musicians create local magic starting with the National Anthem and ending with Crazy Train. Younger music campers, mentored by high school students, get in on the act, testing their wings and providing some good music along the way. It's a total community effort—parents, teachers students and Lakewood citizens (the most supportive of public schools)—all make this happen. Everyone pitches in, and everyone wins.

Several students are in the LRMB and the Lakewood Project. I hope all of our students know how much we appreciate them, how important their efforts and attitudes are to the quality of life that we enjoy. Here's to everything that we lack and all that we have.

Long Live Lakewood.
Read More on
Volume 18, Issue 15, Posted 6:58 PM, 07.20.2022