Dr G's Ranger Roundup: Football Practice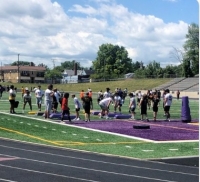 It looks like a youth football camp-and it is-but above and beyond this is team/community building.
Kudos to Aidan Maxwell, Gabe Constantine and all the current Lakewood Rangers for their Passion, Dedication and Commitment to our community and future Lakewood Rangers.
80 youth campers are learning football skills, meeting high school players, and developing habits of discipline, teamwork and leadership (directly or via observation). The former will help with competition on the field, but the later will endure as core elements of effective citizenship.
Another great day in the 44107
Read More on
Volume 18, Issue 15, Posted 6:58 PM, 07.20.2022