Lakewood League Of Women Voters Mary Warren Impact Scholarship Winner: Sophia Gutierrez's Winning Essay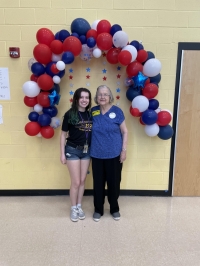 A large problem with the U.S government is that it tends to be reactionary. Its decision-making process is slow, it often doesn't choose until it absolutely has to. In order for the government to be more effective it needs to learn to prepare for the future, and what better way to prepare for the future then by providing our children--our future--their basic human needs. The best way to provide for our country is to provide children with proper education and nutrition.
In terms of basic human needs, food/nutrition is probably the most important. Not only is it something that people need to live, it's also something that affects every other aspect of your life. It's especially important for kids while they are still growing and developing their own eating habits. Sadly, one in six kids in America worry about when they will get their next meal. So many families in this country are struggling to keep up financially and their kids end up having to pay the price. It's important that our state and federal government put more funds into providing proper nutrition for impoverished families in the U.S. Although there have been systems put in place for problems like this, it is clear that it is not a priority for them despite the continuing issues. As the economy gets worse and more people begin to struggle financially, it's important that the government takes action now before this issue gets out of hand.
One way the government is already doing more to provide food for kids is through our school system. Most people don't see school or education as a "basic human need" but the fact is that it is vital for this country's future. Not only does school teach important life skills that kids will use as they grow up, it also provides a safe place for children. For many states, it is clear that school funding is not a priority and public education spending in the U.S overall falls short of global benchmarks. This means that many kids are stuck with cheap, unhealthy lunches, substandard school supplies and limited opportunities. All while the government continues to prioritize military and security even during times of peace.This only makes it harder for children to go on to find good paying jobs to sustain themselves. In order for our country's economic conditions to improve for everyone in the long term it's important that the state and federal government begin to view education as a higher priority.
If the government began to focus more on the problems of the future, it is safe to say that every citizen in the U.S would be better taken care of. If they want to be sure that their citizens are provided with their most basic needs it is best that they begin with providing our children with the education and proper nutrition that they need. It will surely build a better environment for everyone.
Sophia plans to study Biological Science and enter the medical field.
Sophia Gutierrez
Community activist and concerned citizen.
Read More on Non-Profit
Volume 18, Issue 13, Posted 12:21 PM, 07.06.2022