July Events At Lakewood Public Library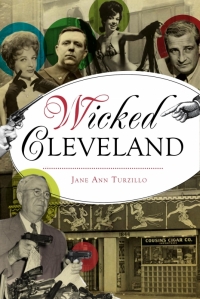 Meet the Author- Wicked Cleveland
Book by Jane Ann Turzillo
Wednesday, July 6, 2022 at 7:00 p.m.
Main Library Auditorium
Wicked Cleveland presents a look into Cleveland's rough and rowdy past. From bookies to mobsters to Lakewood's infamous bank robber Ted Conrad, author Jane Ann Turzillo tells the stories from Cleveland's underworld. Jane Ann Turzillo is a National Federation of Press Women award winner for her books and journalism. She has been nominated twice for the Agatha Award for her vintage true crime books. Books will be available for sale and signing at this event.
Film- Iron Jawed Angels (2004)
Presented by Lakewood League of Women Voters
Wednesday, July 20, 2022 at 6:00 p.m. (123 minutes)
Main Library Auditorium
Join Lakewood League of Women Voters for a screening of Iron Jawed Angels. American suffragette Alice Paul (Hilary Swank) takes her advocacy to Washington, D.C. to fight for the right to vote. When President Wilson refuses, Paul shows how far she is willing to go for the cause. While challenging the ideology of patriarchy, the film showcases democracy and exhibits white privilege. The film will be followed by a discussion.
Presentation- A History of Piracy on the Great Lakes
Presented by the National Museum of the Great Lakes
Wednesday, July 27, 2022 at 7:00 p.m.
Main Library Auditorium
Lake Erie may not have been home to parrots or peg legs, but plenty of pirate lore surrounds the freshwater seas. The Great Lakes were no stranger to thievery, mutiny or unsavory characters, and there are stories to prove it. Join Christopher Gillcrist for a historical and cultural re-examination of piracy and its implications for understanding Great Lakes history. Christopher Gillcrist is the Executive Director of the National Museum of the Great Lakes.
Make sure to follow us on Facebook and Twitter to stay up to date on library news, programs and events.
Read More on Library
Volume 18, Issue 13, Posted 12:21 PM, 07.06.2022