Artists At Work At Meet The Trucks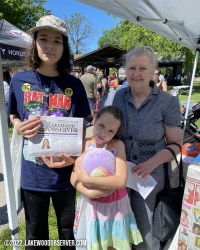 Over forty young artists stopped by the Lakewood Observer table to color a firetruck for a chance to win a trip to Lakewood Firehouse One. We had abstract art from kids as young as two, to budding Picassos who used every crayon on the table. Next year we'll bring more red ones!
Seven-year-old Evie Solomon was chosen by the Fire Department as this year's winner. Her family and some of her friends will get a personal tour of the fire station and trucks. Good work!
Thanks to all of the kids and parents who stopped by to chat, and of course to Lakewood Early Childhood PTA and to the Lakewood Fire Department, for all that you do for this community.
Read More on
Volume 18, Issue 13, Posted 6:51 PM, 06.16.2022