The Westshore Young Leaders Hold Their Final Meeting At Urban Air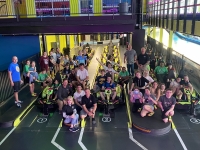 The Westshore Young Leaders is a youth organization comprised of students from the six Westshore cities of Bay Village, Fairview Park, Lakewood, North Olmsted, Rocky River and Westlake. The group meets once a month during the school year in the Bay Village Police Department's community service room. It has been around for twelve years and is headed up by Mrs. Noreen Kyle, the School Outreach and Education Specialist of the Westshore Enforcement Bureau. The mission of the organization is: Westshore communities working together to support young leaders and promote healthy, safe and substance-free life choices.
The students held their final meeting at Urban Air at Crocker Park in Westlake. Meetings normally consist of an educational piece instructed by the Effective Leadership Academy or McKeon Educational Group followed by interactive games and activities. This month, they took the show on the road for the last meeting of the school year. They were hosted by owner Ted Grambo and the fun, friendly staff of Urban Air in Crocker Park for an evening of ropes courses, go karts, obstacle courses, trampolines and pizza. The Young Leaders had a great evening hosted by a great staff.
Noreen Kyle
School Prevention and Education Specialist for the Westshore Enforcement Bureau. The Westshore Young Leaders Network is dedicated to implementing strategies aimed at preventing and reducing youth substance use while encouraging healthy life choices in the Westshore Communities.
Read More on Schools
Volume 18, Issue 12, Posted 12:51 PM, 06.15.2022