Rotary Awards Scholarships To Five High School Seniors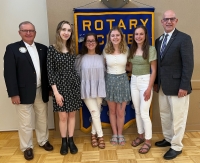 Five area graduating seniors have been awarded college scholarships by the Rotary Club of Lakewood-Rocky River. Recipients are Estella Dajko, Elana Rouse, and Isabella Shaner of Rocky River High School, and Abigail Hirsch and Teeghan McGann of Lakewood High School.
Each will receive a $3,000 award from the Lakewood-Rocky River Rotary Foundation. This $15,000 scholarship program is part of over $60,000 that the Rotary club donates to community programs each year.
In addition to demonstrating academic achievement and potential, these five Rotary scholarship winners were chosen for their character, as well as extracurricular and community involvement.
Abigail Hirsch has a passion for building connections among students. She was a captain of the Rangers Cross-Country team. She was deeply involved in the school's Race and Diversity Club to build bridges and break down barriers, and the Home Alone Club to guide younger students on safety measures when going to empty homes after school. She was inducted into Lakewood's chapter of the National Honor Society. With aspirations to become a psychiatrist, Abby will attend Ohio University to study psychology.
Teeghan McGann lives the volunteer life, helping with her high school's programs like Help 2 Others, Home Alone, and the Lakewood Youth Running Club. She also volunteered at St. Luke's parish and at a local nursing home in the early days of the pandemic when residents' families were unable to visit. She co-captained the Ranger Track & Field and Cross-Country teams. Teeghan likes to work collaboratively with her peers, and plans to do that studying business at Miami University.
Estela Dajko used the challenge of immigrating to this country as motivation to make the most of opportunities. In her high school career Stella found a home in the performing arts departments, singing in various choirs and being involved in Drama Club productions in backstage and on-stage roles. She is a National Honor Society member. With a passion for reducing stigma around mental and emotional health, Stella will study health sciences at Baldwin Wallace University.
Elana Rouse finds many ways to express her creativity, including playing violin, supporting her school's Environmental Club, creating art selected for Rotary's recent art show at Beck Center, and writing a first place-winning essay for the Maltz Museum's "Stop the Hate" program. Elana was part of the costume shop crew for her school's Dazzle Award-winning production of the musical "Young Frankenstein" this spring. She will study fashion design at Kent State University because she wants to increase sustainability in fashion to counter "fast fashion cycles."
Isabella Shaner is the model of dependability. She was in concert and march band, and National History Day competition, and on the fencing team all four years of high school. She tutored middle school students and maintained pen pal communications with area nursing home residents. Last summer she was accepted into a two-week painting course at Cleveland Institute of Art. Isabella will study biology at The Ohio State University with plans to pursue a career in physical therapy.
The Rotary Club of Lakewood-Rocky River is part of Rotary International, a worldwide organization of more than 1.2 million business, professional, and community leaders. Members of Rotary clubs (known as Rotarians) provide humanitarian service, encourage high ethical standards in all vocations, and help build goodwill and peace in the world.
There are 33,000 Rotary clubs in more than 200 countries and geographical areas. Clubs are nonpolitical, nonreligious, and open to all cultures, races, and creeds. As signified by the motto Service Above Self, Rotary's main objective is service — in the community, in the workplace, and throughout the world. To learn more, visit www.rotary.org.
Read More on Civic Groups
Volume 18, Issue 12, Posted 12:51 PM, 06.15.2022