Community Questions Mayor Regarding Local Dispatch Services At City Council Meeting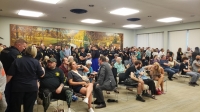 Of the 13 community members who submitted public comments about the possibility of Lakewood outsourcing its police dispatch center at the June 6 City Council meeting, none of them supported Mayor Meghan George's plan.
Mayor George opened this portion of the city council meeting by stating that Cuyahoga County began financially penalizing Lakewood last year because Lakewood continues to run its own emergency dispatch center, in what the county believes is a violation of Section 128.571 of the Ohio Revised Code. This requires municipal governments to join together for dispatch services. Mayor George did not state how much Lakewood had been financially penalized by the county. She did say that this section of the law may be overturned by Ohio House Bill 445, which is currently in committee.
The mayor stated that many westside communities had been in talks to join Chagrin Valley Dispatch, noting that 33 of 59 municipalities within Cuyahoga County are already members.
However, Chagrin Valley Dispatch's website states that they only serve as the communication center for 26 municipalities. Many of these municipalities are to the east and south, including Bratenahl, Solon, and Moreland Hills.
Mayor George stated that mayors, police chiefs, and fire chiefs who were members of the Chagrin Valley Dispatch believed they had "improved safety due to access to superior technology based upon economies of scale." While she had discussed moving Lakewood's dispatch services to Chagrin Valley Dispatch, Mayor George stated the matter would be moved to the Public Safety Committee for further examination.
"This is really the beginning of a discussion," she said.
That discussion began with public comments, the first of which came from Anthony Ciresi, an off-duty Lakewood police sergeant. He noted that the eleven women who run Lakewood's dispatch unit have 188 years of collective experience serving Lakewood. Ciresi highlighted the Lakewood dispatcher's important role in community safety, stressing that Lakewood's police department doesn't have the same problems other communities have because "we work together as a team, and that team includes our dispatch center. If we lose them, we are losing … our ability to communicate."
Denise Tharp, a dispatcher with 15 years of experience, recalled a time working as a dispatcher for the Cleveland Metroparks when she was communicating with police regarding a shooting in the parks. As the suspect crossed over Lakewood's border, she worked in cooperation with a Lakewood dispatcher. The short response time and geographic knowledge from the Lakewood dispatcher contributed to saving a shooting victim's life.
Tharp said she had also worked as a dispatcher for Chagrin Valley Dispatch, the dispatch center Mayor George referenced in her opening remarks.
"This is not the type of service that any city that is part of Chagrin Valley Regional Dispatch center receives," Tharp said. She categorized Chagrin Valley Dispatches's philosophy as one where there is little regard for a dispatcher's lack of familiarity with a city or its geography, even if it costs precious, life-saving minutes. "Chagrin Valley Regional Dispatch is a disservice to the communities it serves and a detriment to responder safety," Tharp said.
Rebecca Wise spoke movingly about how every second counted in an emergency. In an emergency, she stated, you might be disoriented or panicked. Because Lakewood's dispatchers have so much experience and have served the community for so long, they are able to locate someone and send help faster than a dispatcher who is unfamiliar with the city or its landmarks.
Bridget Roda, a Lakewood dispatcher with 22 years of experience, said that Mayor George spoke to the local dispatchers union only after a public records request was filed. The request was for information regarding meetings Mayor George, Chief of Police Kevin Kaucheck, and Fire Chief Tim Dunphy had with Chagrin Valley Dispatch. Mayor George told Roda and the other dispatchers they could be moved to Chagrin Valley Dispatch by early 2023. Because Chagrin Valley Dispatch is not unionized, there would be no guarantees of safe work practices.
Roda noted that the legal complexities surrounding statute 128.571 could have been better uncovered had Mayor George asked more questions of local interested parties rather than the for-profit dispatch center.
Roda highlighted the irony of Mayor George's past suggestions that she supported female empowerment, while also making moves to disband Lakewood's only all-female union made up of African American, Hispanic, Caucasian, and LGBTQ+ women.
Ron Bunner, a Lakewood police officer, spoke about his conversations with two police officers from an eastside suburb whose dispatch is now run by Chagrin Valley Dispatch. "They no longer respond lights-and-siren to calls in progress because response times are so low that by the time they get there, the crime is over," he said.
Bunner also stated that during a June 1 meeting with Lakewood's chief of police, Chief Kaucheck "admitted this may hurt our response times and officer safety, but that this was the wave of the future." Furthermore, Bunner reported that Chief Kaucheck acknowledged the move to Chagrin Valley Dispatch would not yield significant, if any, cost savings.
A local business owner spoke in support of the Lakewood dispatchers, noting that Lakewood's dispatchers had served in close quarters throughout the entire pandemic at a risk to themselves and their families. Disbanding their union and outsourcing their jobs was "not a way to treat people."
Bryan McNeeley, a Lakewood police sergeant, said, "Technology is not a replacement for knowledge of the community. There's no replacement for that."
A full video of the City Council meeting is available on the City Council's webpage at https://www.lakewoodoh.gov/councilvideos/.
Susan Hutner has been a resident of Lakewood for over 15 years.
Susan Hutner
Resident of Lakewood for over 15 years
Read More on City
Volume 18, Issue 12, Posted 12:51 PM, 06.15.2022