Stay Safe! Make It Yours!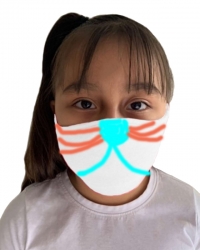 There are a lot of fun masks out there for kids. What was missing, Color Me A Mask founders Gerry Engelhart and Rachel Gordon realized…was the kids! "Give kids markers, and they tend to excel at personalizing," laughs Gordon.
"We both know families with multiple children and wondered how they were going to keep track of which mask belonged to which kid – and the thought of sharing masks seems to defeat the purpose," explains Engelhart. Being artists and in the printing business, it didn't take long for the 'ah hah!' moment to come – if kids designed their own masks it would not only be fun for them, but it would be easy to keep track, both at home as well as at camp, school, etc.
With camps well underway and schools, sports, and other activities getting set to start, it's even more important that kids be able to quickly identify their mask to lower the risk of cross-contamination. "Between social distancing and mask wearing, I think there's going to be a lot less sickness going around in general," said Engelhart.
Gordon, a Lakewood native, is an artist and wanted to make sure kids had lots of color options. The masks come in black with silver and gold markers and white with two markers in a variety of fun colors. Check out the possibilities at www.colormeamask.com!
It has been quite the learning experience for the two. They came up with the idea and, wanting to make the masks available for kids as soon as possible, were up and running within two weeks. "Figuring out where to get the best masks and markers as well as putting together the packaging and a website – it was a whirlwind!" says Gordon. Engelhart reports that his grandkids had fun designing their own masks – "and there is no question which mask belongs to which kid!"
The Center for Disease Control recommends that all children over the age of two wear a face mask in public to minimize the spread of COVID-19.
Rachel Gordon
After growing up in Lakewood, I spent 30 years away before returning to Cleveland - settling on the east side where I could not believe I was still hearing the same east-west no crossing the river talk I'd heard growing up! I was constantly 'crossing the river' driving to Lakewood to see family...and now with the coronavirus, I'm living with my mom and brother with Down Syndrome in Lakewood since they are both fairly restricted due to health issues. I love Lakewood! Of all the cities I've lived in, none compare. And it's only gotten better over time. It's so fun to see how vibrant the streets are - both residential and commercial. The parks are amazing and the care the city is exhibiting in making life more sustainable and environmentally friendly will make it an even better place to live. I'm an artist currently working in graphic design, editing, marketing and IT for a printing company.
Read More on Features
Volume 16, Issue 16, Posted 5:22 PM, 09.16.2020