Birchwood 8th Grade Writers Win Recognition: Lakewood Student Earns Recognition For Humorous Essay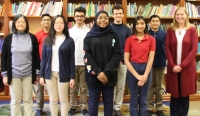 Birchwood 8th grade students earned gold key, silver key, and honorable mention in the Regional Scholastic Writing awards.
Samyuktha Iyer (Highland Heights) was awarded a gold key for her personal essay and memoir, "A Pop of Color in a Grey Place."
Rohan Kumar (Brunswick) also earned the gold key award for his short story, "The Struggle."
Qiwen Wu (Cleveland) won a gold key for her short story entitled, "Because of You"
Nikhil Mahajan (Orange Village) won a silver key in the science fiction and fantasy category for his story, "The Kidney."
James Mamone (Parma) was also awarded a silver key in science fiction and fantasy for his, "Fear of the Unknown."
Dhyani Nautiyal (Lakewood) earned honorable mention for his humor writing entitled "Vengeance."
Nasreen Shukar's (Cleveland) flash fiction, "Moving Away" was also awarded honorable mention.
The Scholastic Writing Awards is the longest-running and most prestigious program for recognizing and rewarding students' talent. Our students join the ranks of Scholastic alumni Andy Warhol, Stephen King, Sylvia Plath, and Tschabalala Self. Last year nearly 340,000 works were submitted and over 2,700 students received national recognition.
Mrs. Lorraine Tzeng describes Scholastics as one of Birchwood's signature programs, saying, "Scholastics offered students a unique opportunity to write a longer piece involving the entire writing process from brainstorming to submission. It allowed students a creative venue to hone various revision techniques, putting into practice techniques they have learned. Every award was well deserved."
While Birchwood takes pride in its students' accomplishments, they recognize the talent and dedication of their teachers as well. Since 1986 Birchwood has been participating in this program under the direction of Mrs. Lorraine Tzeng. Under her dedicated coaching, 170 students receive regional and national recognition. Twenty-nine students have received National Gold or Silver Key Awards, 89 have received Regional Gold or Silver Key Awards, and 52 students received Honorable Mention. One of Birchwood's newest teachers, Mrs. Jennifer Seward, assisted in coaching this year, proving to be a valuable asset to the team.
Birchwood School of Hawken is a private, coeducational school in Cleveland, Ohio. Founded in 1984, Birchwood serves students in kindergarten through grade 8. Birchwood's mission is to equip children to lead a life of becoming – growing, thriving and flourishing – through the development of intellect and character.
Aubrey Fox
Birchwood School alumni
Read More on Schools
Volume 16, Issue 2, Posted 8:04 AM, 01.23.2020