Strokes Of Genius Concludes With Art Show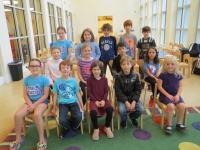 The fall session of Strokes of Genius at the Lakewood Public Library came to a close in November as participating second, third, and fourth graders proudly showcased their talent at an Art Show for family and friends.
Each week students learned about the life and work of a different artist and then completed an art project motivated by the style of that artist. Artwork created by Paul Klee, Alexander Calder, Marcel Duchamp, Wassily Kandinsky, and M. C. Escher provided the inspiration for the students' creative efforts. Oil pastels, wire, paint, cut paper, and rolled paper were some of the mediums used.
One project involved painting with string. The young artists dipped long pieces of string into tempera paint and placed the string on paper. This resulted in beautiful works of art!
In addition, public art and sculptures in Cleveland and Lakewood were studied. Each participant took home their creative work and a certificate.
Look for information about the spring session of Strokes of Genius in the Lakewood Public Library's Spring/Summer mailer!
Read More on Library
Volume 15, Issue 22, Posted 4:39 PM, 11.20.2019