Light-Up Lakewood Booksale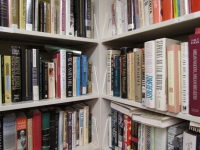 The Holiday season is upon us, and there is so much to love about this festive time of year.
With so much to celebrate in Lakewood we hope you will come down to the Lakewood Public Library book sale.
Multiple times a year, the Friends of Lakewood Public Library host a book sale. The upcoming sale will be in congruence with the annual observance of Light Up Lakewood and will also be a bag sale on Saturday, December 7, 2019, from 9:00 a.m. to 5:00 p.m. in the lower level of the Main Library, with the preview sale being held on Thursday, December 5, 2019 from 6:00 p.m. to 8:30 p.m. It should be noted that the preview sale will not be a bag sale, and all items will be a normal price.
We will be selling our Holiday Gift Book Bundles at this sale, and there will be a Pop-Up Shop table upstairs just in time for the holiday season, so consider Lakewood Public Library for your bargain gift shopping this year.
We will also be featuring an assortment of gently-used teacher reading packs. These include multiple volumes of the same book and are perfect for group reading assignments.
The sale is sponsored by the Friends of the Lakewood Public Library, who commit themselves tirelessly but also free of charge to the mission of providing beautiful recycled treasures to the people of this fabulous city. As always, patrons have the option of renewing their memberships for 2020 at this sale. So, let's continue to celebrate both the tenacious attitude of our city, and the many irreplaceable members of this community as we come together to make Lakewood the fantastic place it is.
Read More on Library
Volume 15, Issue 22, Posted 4:39 PM, 11.20.2019