Debbie Darling: Songs Of The 30s, 40s, 50s And 60s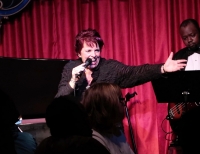 In the 1930s, folks tapped their toes to hits from the Great American Songbook with their families gathered around the living room radio. Now we keep the beat with handheld smartphones, but favorites like Cole Porter's "I've Got You Under My Skin" or George Gershwin's, " S' Wonderful" have never left our playlists.
Debbie Darling will perform some of the time-honored tunes of the 30s, 40s, 50s and 60s and tell the stories behind them when she visits Lakewood Public Library on Sunday, November 24, 2019, at 2:00 p.m. The accomplished singer and songwriter will be accompanied by musician David Strieter.
The Great American Songbook isn't a book at all. It is a classification of music from the early Twentieth Century that includes Broadway tunes and popular hits by composers such as Irving Berlin, the Gershwins, Duke Ellington and Rodgers and Hammerstein.
And while there is some debate as to which songs should or should not be included in the Great American Songbook, Debbie Darling will help prove the reason this music has endured -- in spite of dramatic cultural changes over the last ninety years -- is because it was just so s'marvelous.
This Sunday With The Friends program takes place in the Main Library Multipurpose Room.
Read More on Library
Volume 15, Issue 22, Posted 4:39 PM, 11.20.2019