Meet The Author- "Cafe Abyss: John O'Brien's Fiction, A Reflection"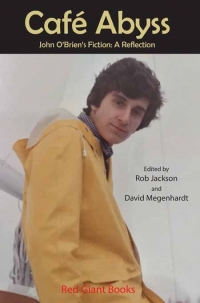 Long before he wrote the novel "Leaving Las Vegas," John O'Brien called Lakewood home. The 1978 Lakewood High School graduate had a tragically short life and literary career, but the impact he made on the people who knew him and the readers moved by his work has more than endured the twenty-five years since his untimely death in Beverly Hills.
It is from this legacy that "Café Abyss: John O'Brien's Fiction, A Reflection" was born. The editors and contributors of the book are visiting Lakewood Public Library on the day of its release, Thursday November 7, 2019 at 7:00 p.m. for a discussion about the novelist's life and work. This special Meet The Author event will be held in the Main Lower Level Auditorium at 15425 Detroit Avenue.
Editors of "Café Abyss," Dave Megenhardt and Rob Jackson, as well as O'Brien's sister, Erin O'Brien, will join the discussion, along with additional essay contributors Sara Dobie Bauer, Patrick Snee, Matt Marshall and Tanya Pilumeli, who will speak about discovering O'Brien's work and share their analyses of it.
In addition to his first novel, "Leaving Las Vegas,"(1990) which was made into a film of the same name in 1995, three more books, "The Assault on Tony's"(1996), "Stripper Lessons"(1997), and "Better: a novel"(2009) were released posthumously with help from his sister.
Copies of "Café Abyss: John O'Brien's Fiction, A Reflection" will be available for sale and signing at the event.
Read More on Library
Volume 15, Issue 20, Posted 4:59 PM, 10.16.2019