Folias Duo Performs Concert In Main Library Auditorium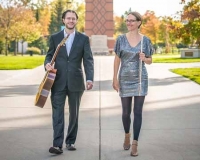 Folias Duo, a flute and guitar ensemble, is comprised of husband-and-wife team flutist Carmen Maret and guitarist Andrew Bergeron. Maret and Bergeron met while both were graduate music students at Michigan State University; they married in 2003.
Maret and Bergeron are performers, composers, teachers, and tango dancers. As teachers, they offer private instruction in flute and guitar as well as classroom instruction in music theory. As composers, they have written over fifty pieces for guitar and flute, including their "Flute and Guitar Concerto Garita." They have performed original tango arrangements at festivals throughout the world, including the Burning Tango Festival, Esquina Tango Austin, Quantum Tango, and Tango Berretín. Folias Duo also performed in San Francisco as part of the Vernon Salon series, where they presented a program of original classical music for flute and guitar influenced by the music of Argentinean composer Astor Piazzolla and by South American folk music.
Their first album, "Tangos Metamorphoses," was released in in 2004, and their latest CD, "Delicate Omens," will be released this month. "Delicate Omens" features Bergeron's "Emerson," inspired by essays of Ralph Waldo Emerson and Maret's "Angel Forever" which she describes as "Pat Metheny and Astor Piazzolla walk into a bar."
Folias Duo's concert takes place on Sunday, October 20, 2019 at 2:00 p.m. in the Main Library Auditorium.
Read More on Library
Volume 15, Issue 20, Posted 4:59 PM, 10.16.2019