The Results Are In: Understanding Your DNA Test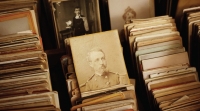 Over 26 million Americans have mailed in their saliva sample for an at-home ancestry test. The initial process is simple for the consumer, but deciphering the results of this ever advancing DNA research can be baffling. Mary Jamba is visiting Lakewood Public Library on Wednesday, October 16, 2019 at 7:00 p.m. to explain what the reports mean and how you can get the most out of them.
Connecting with others who share your DNA and what ethnicity estimates reveal will be topics of discussion. The presentation takes place in the Main Lower Level Auditorium at 15425 Detroit Avenue.
Mary Jamba is an avid genealogist with twenty-six years of research experience and currently serves as program chair for the Western Reserve Historical Society Genealogical Committee and the DNA User Group Leader at the Computer Assisted Genealogy Group.
Lakewood Public Library further supports your genealogy quest in a variety of ways with programming and resources specifically created to help. You can access Ancestry Library Edition at one of our computers in the Technology Center to search thousands of vital records. A library card is all you need to get started.
For extra guidance, we offer Genealogy Workshops taught by Deborah Abbott, PhD in our learning lab on the Tuesdays of October 22, 2019; November 26, 2019; January 28, 2020 and February 18, 2020 at 6:00 p.m. Registering is easy with a phone call to (216) 226-8275 ext. 127.
On the topic of ancestry, a Meet the Author event on Thursday, November 14, 2019 at 7:00 p.m. will feature the book, "White Like Her: My Family's Story of Race and Racial Passing" by Gail Lukasik, PhD. The author will discuss the true-life story of her journey to uncover her mother's racial lineage. Books will be available for sale and signing at the event.
On Tuesday, January 7, 2020 at 6:30 p.m., Julia Creet from the Greater Cleveland Genealogical Society will be presenting the documentary "Data Mining the Deceased: Ancestry and the Business of Family." The following Tuesday, January 14, 2020 at 7:00 p.m., Edward Bolte, president of the Western Reserve Historical Society Genealogy Committee, will present "The Changing Face and Future of Obituraries." Visit lakewoodpubliclibrary.org for more information.
Read More on Library
Volume 15, Issue 19, Posted 5:59 PM, 10.02.2019