Lakewood Author Publishes First YA Novel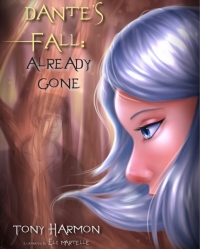 When Tony Harmon graduated from Lakewood High School in 2015, he didn't feel like he had much direction for what was next. So he picked up a pen and a legal pad and decided to write a story.
The story, titled "Dante's Fall" is a young adult fantasy fiction novel that describes a young man who wakes up in a strange land with no recollection of who he is, save for the smart phone in his pocket.
"I had this story in my head, but I never really considered myself a writer," said Harmon, now 22 years old. "I had time on my hands, so I thought, why not? I wrote the whole thing out on a legal pad."
His father, Jim, remembers the moment he discovered his son writing the novel. "I walked into Tony's room and he was sitting on the floor in the middle of a fan of paper. I asked him what he was doing. He said, 'I'm writing a story and these are all my characters. I'm trying to figure out how they fit together.'"
Jim said he backed slowly out of the room, surprised and delighted that his son would undertake such a task. "I'm a high school English teacher by trade, so I knew he was character mapping. I didn't want to ruin his process, so I backed out of his room and closed the door."
That was the beginning of a four year journey in which Tony would write four novels. His first one was released for free on Apple Books on September 27, 2019. He plans on releasing the story on other platforms soon.
"I have no idea if people will like my story, but I enjoy the writing process. I'm giving the first novel away for free."
The idea, said Harmon, is to give readers a sample of his work, and if it does well, then he'll publish the next three in the series for a modest fee.
"I don't need a publishing house by using electronic means. I started with Apple Books because they have the ability to add widgets, which allows the reader to interact with the story in ways a traditional book doesn't."
For example, when the main character, Dante, pops his earbuds in and listens to a song, the reader can tap a link which plays the song on the page without leaving the app. "It's a whole new way to read and experience the story," said Harmon.
Readers can download "Dante's Fall" from Apple Books for free at https://books.apple.com/us/book/dantes-fall/id1481484910
Jim Harmon
Jim Harmon is a lifelong Lakewood resident.
Read More on Arts
Volume 15, Issue 20, Posted 5:57 PM, 10.02.2019