H2O's R&D Team Gears Up For HOME ALONE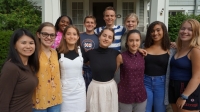 A highly dedicated team of eleven H2O "Help to Others" members from Lakewood High School spent last summer meeting with experts from Lakewood Police, Fire, EMS, and an internet crime investigator to gather important safety information that will aid their younger peers. The findings of H2O's Research and Development Team will be shared by an expanded group of high school leaders through interactive presentations at four HOME ALONE parent/child events scheduled for January and February of 2020.
The R&D Team is part of H2O's innovative HOME ALONE Youth Leadership Program. This initiative has been made possible through generous grants from the Thomas S. and Marjorie J. Gray Foundation and Lakewood/Rocky River Rotary Foundation. The HOME ALONE Youth Leadership Program will engage and support a total of 50 high school volunteer leaders as they develop safety training workshops for 9-12 yr old students in Lakewood. The high school leaders look forward to sharing their own experiences, along with critical information and specific skills with attendees. This peer-to-peer mentorship is designed to increase knowledge, build life skills and inspire confidence in the younger students in a fun, engaging way.
Watch for more news about this exciting project in the coming weeks. Registration for HOME ALONE will begin in November. The events will be held at Garfield Middle School and will cover things like: practicing safety on the way to and from school, first aid, phone and door safety, resolving sibling conflicts, and internet safety.
Kudos to the following students for the tremendous time and effort they have already given, and the commitment they are demonstrating in safeguarding their younger peers: Kim Banak, Gina Marjanovic, Olivia Patterson, Emma Hart, Jacob Kavc, Lavinia Grandt, Sydney Wilhelmy, Hayley Welsh, Johana Guci, Sarah Donaldson, and Tully Worron.
Read More on Features
Volume 15, Issue 19, Posted 5:59 PM, 10.02.2019