Guitarist Hiroya Tsukamoto Performs At The Library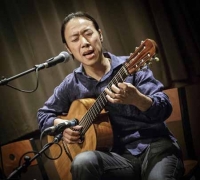 Lakewood Public Library is pleased to welcome Hiroya Tsukamoto, internationally acclaimed guitarist and singer-songwriter, to our concert stage. Born in Kyoto, Japan, Hiroya was thirteen years old when his father gave him a five-string banjo. Inspired by a recording of "Foggy Mountain Banjo" by Earl Scruggs, Hiroya taught himself the banjo and took up the guitar shortly thereafter.
In 2000, Hiroya received a scholarship to study music at Boston's Berklee College of Music, where he founded the band Interoceanico. After college, he moved to New York City. Since then he has performed throughout the world including several performances at Blue Note in New York City and on Japanese National Television. In 2018, Hiroya took Second Place in The International Finger Style Guitar Championship.
A guitarist with "chops, passion, and warmth" (Jazz Review), Hiroya Tsukamoto performs eclectic acoustic music combined with stories and Japanese folk songs. He will take us on an innovative, impressionistic journey.
Hiroya Tsukamoto's concert occurs on Sunday, October 13, 2019 at 2:00 p.m. in the Main Library Auditorium. Admission is free and open to all.
Read More on Library
Volume 15, Issue 19, Posted 5:59 PM, 10.02.2019