Famous In The Neighborhood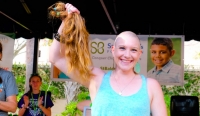 Lakewood Native Recognized for Exceptional Leukemia Fundraising

There are few things more enjoyable than a good old fashioned September Lakewood saloon reunion, a hops homecoming, bringing together generations of tavernites and neighbors, especially when the occasion is for a great cause.

Lakewood native, stalwart, and impressario Billy Blatt - recently recognized for his fundraising work by and on behalf of the Leukemia & Lymphoma Society of Northestern Ohio - hosts his annual Music and Tailgaiting Festival, Saturday, September 14th from 1:00-8:00 p.m. in the carnival parking lot space beside the Avenue Tap House, 18206 Detroit Avenue.

Leukemia & Lymphoma Society of Northestern Ohio
Inspirational | A community of heroes for a common cause.
https://www.lls.org/northern-ohio

"I've had people very close to me pass on from leukemia," says Billy, who grew up on Edwards and Detroit and still lives with his family in town. Moreover, Billy's longtime friend - see Team Hout - has been battling - and continues winning - the battle against leukemia and lymphoma. "So the quest to find a cure has been a real personal purpose in my own life for a number of years and I've seen how it can help in saving lives."

As in past years, there will be a series of bartending ambassadors that span the eras of Lakewood smiling weekends while also presenting a truly family event. Kids under 12 get in free and the musical acts are family festive friendly for all ages.

Additionally, Billy draws together each year a confluence of Lakewood business, civic, and neighborhood stakeholders in making this a perennial collaborative among all. "It's a privilege and a pleasure to be in partnership with the Lakewood business community in helping Billy make this happen," says Aaron Zeleznik, owner of Mullens on Madison. "Even more, it's a great time and every year it's fun to see familiar and friendly faces."

This year's line-up includes the Colin Dussault Acoustic Side Project (Featuring Jim & Eroc.)(2:00 p.m.); Alexandra Gray (4:00 p.m.); and Cats on Holiday (6:00 p.m.). There is an outdoor cash bar serving beer (the spirits at the Avenue create their own alchemy and symmetry with the outdoor festivities). There will also be food, raffles, side plays, and gift baskets.

"Looking out from the stage and seeing the friends you may have not seen in five or ten years is really something," says fellow Friend of Billy and Lakewoodite, Jim Tigue, who has been a part of the music groove at the fest for some five years. "You see faces you grew up with, sitting with their parents and kids - and sometimes grandkids -and it's hard not to get caught up in this really cool vibe."

At 5:30 p.m., there is what has become the ritual hair-shearing, for which funds have been raised for those foregoing their locks in honor of someone battling or lost. In addition - and equally elevating - there occurs the T-Shirt Presentation honoring those triumphing over the battle.

St. Baldrick's
https://www.stbaldricks.org/blog/post/donate-your-hair-in-5-easy-steps?gclid=EAIaIQobChMI3IKTubqZ5AIVEo3ICh1rHQH4EAAYASAAEgKeN_D_BwE

This past spring, the Leukemia & Lymphoma Society of Northestern Ohio tapped Billy on the shoulder, asking him to come out to Independence. He was welcomed to cheers in recognition of the committed and tireless work he has performed and the money raised over the past years.

"The respect for Billy from the people at the foundation is impressive and heartwarming," says Jackie Ramey, who has helped host the event over the past five years, speaking about the recognition ceremony. "If you know him, he is very humble and unassuming. And to see people reflect that appreciation and glow is really something special."

There is a general admission fee of $10 and the event happens rain or shine.




Matthew K. Weiland
Matthew K. Weiland is a Lakewood resident
Read More on Features
Volume 15, Issue 17, Posted 6:27 PM, 09.04.2019