Scalish Construction Celebrates 10 Years Of Giving New Life To Old Buildings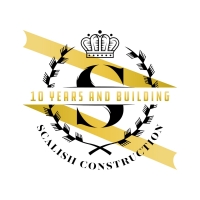 Frank and Maria Scalish have a vision of Greater Cleveland that includes the restoration of all historic homes and commercial buildings - not only to give them new life but to make them healthier for their inhabitants. The co-owners of Scalish Construction are celebrating 10 years in business and have some big goals for the next decade.
Research from the Small Business Administration Office of Advocacy shows that only about half of small businesses survive past the five-year mark. To be able to celebrate a decade as a successful small business in a big city, it takes passion, perseverance and faith - all of which Scalish Construction has in spades.
The Lakewood-based construction company was founded by the couple in 2008 in the basement of their home. Opening a business in the middle of the recession wasn't without its challenges, but Scalish has since then grown to complete over 120 projects ranging from residential buildings to commercial properties.
"I think that the sky was really the limit when we started our business," Frank said. "We did start it in the midst of a recession and people thought we were crazy, but I never paid attention to that. To me, the glass was half full and that was an opportunity to break into this industry and do something profound."
The company offers general contracting but has carved out a niche for itself with projects that have environmental or historic preservation and restoration needs, oftentimes combining both to implement the best green building practices while maintaining a high-level of craftsmanship.
"When I look back 10 years ago, we were so young and so for us, it was taking more of the artistic approach," Maria said. "As we started to evolve, we realized there was more to the projects. We became more environmentally aware and the health aspect came in, so it just started to organically layer as we went along."
The variety of projects Scalish Construction undertakes runs the gamut, from restoring historic churches to commercial storefront renovations to new construction of luxury townhouses. Currently, the team is completing BoxSpot, a business incubator made entirely of repurposed shipping containers for a community development corporation on Cleveland's east side. BoxSpot will provide retail space for micro enterprises in an effort to stimulate growth in the low-income neighborhood.
The company's commendable evolution hasn't gone unnoticed. In the past 10 years, Scalish Construction has gone on to win numerous awards including the 2015 Celebration of Preservation Heritage Home Program Award, City of Cleveland Storefront Reservation award, 2018 Celebration of Preservation Storefront Renovation Award, 2018 Lakewood Heritage Advisory Board Preservation Award and many more.
While their excellence is evident in the work and recognition the company has received, Scalish continues building on their expertise to evolve with the community's changing needs. Besides graduating Cum Laude from Cleveland State University and apprenticing with a master stone, wood, marble and sculpture artist, Frank has also sought professional certifications with renowned sustainability organizations. The Scalish team already has a LEED accredited professional, but Frank himself is currently studying to become WELL accredited. Accreditations from the International WELL Building Institute and LEED denote the highest commitment to maximizing occupant health and buildings' environmental efficiency.
"My passion is driven by the legacy that we're leaving behind for generations to come," said Frank Scalish. "When we rehabilitate a commercial or residential property, it has a ripple effect on the community. Not only does it impact property value, but renovations can also improve the health of the residents or employees, as well as the well-being of the neighborhood and surrounding environment. It's pretty remarkable to think about."
For Scalish Construction, the green movement isn't just a passing trend. The company's emphasis on healthy and sustainable building comes naturally to the preservation and restoration aspect of their work, but it became all the more crucial when Frank himself fell ill a few years after Scalish Construction was founded.
It has always been the Scalish philosophy to provide customers with the same quality of service and craftsmanship that they would expect for themselves and their family. This obstacle only served to raise the bar higher.
"We won't put our team, the environment or the community in harm's way by going down a path for the easiest profit," said Maria. "It's not a hard decision to make because we know opting to use toxic or hazardous materials won't pay off for anyone in the long run."
For many clients, Scalish's dedication to the green movement is a big determining factor when looking for a contractor. Briana Ishida, a former client who worked with Scalish to build an addition to her century-old Tremont home in 2018, notes that while there were lower bids for the project, Scalish was worth it because of their open communication and eco-friendly service offerings.
"That was one of the things we liked about them - that they were green. We wanted to be more eco-friendly where we could and Scalish advised on energy efficient heating and air conditioning systems," Briana said. "The whole Scalish team was great."
Scalish's respect for their clients, the community and their craft puts them in a league all their own and it's part of why the business has thrived for over ten years. Frank and Maria continue to lead the company with pride in the quality and value Scalish brings to the community in hopes of one day driving Scalish Construction to the forefront of the industry.
"The best is yet to come," Frank said. "My vision was ultimately to get into an industry that was so set in its ways, shake it up and turn it on its head and I still have that mentality. We have and will continue to push the envelope and be creative and look for new ways to bring the best of Scalish to those within our reach and maybe even farther."
About Scalish Construction
For more than 10 years, Scalish Construction has helped preserve Cleveland's historic buildings by offering a wide variety of commercial and residential construction services. With an artistic perspective and superior craftsmanship, Scalish provides Northeast Ohio with creative solutions that maintain their clients' vision and lifestyle, the property's original architectural integrity, and the earth's sustainable resources. Follow Scalish Construction on Instagram, Facebook and Twitter.
Read More on Historical
Volume 15, Issue 14, Posted 3:19 PM, 08.21.2019