Labor Lines Up For Tess Neff, Candidate For Ward 1 Lakewood City Council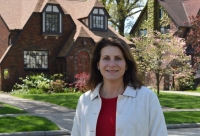 I am honored to be endorsed by the dedicated and hard-working men and women in labor. The members of the Cleveland Building & Construction Trades Council, AFLCIO, Laborers' Local 310, AFSCME Ohio Council 8, and Electrical Workers Local 38 have placed their trust and confidence in me to represent their values as a member of Lakewood City Council. Having some type of job since I was twelve years old I understand and appreciate the importance of maintaining a strong work ethic. As an attorney, a former police officer and magistrate in both the Lakewood Municipal Court and the Cuyahoga County Juvenile Court, I have always conducted myself with integrity and transparency. Open and honest conversations with the new mayor, the City's partners including police, fire, public services and community members will unite Lakewood and drive our City on its continuous progressive path. We are a successful inner ring suburb that is accepting and inclusive. It is critical we stay this course and strive to improve on our accomplishments because the alternative is unacceptable.
My life and work experience has prepared me well to serve on City Council and to be a part of the team to lead our community. September 2019 is four years that I have served as the Court Administrator for the Cuyahoga County Juvenile Court. It is a complex organization comprised of almost 600 employees and it operates on a budget close to $60 million. As the leader and responsible person to oversee operations and the functionality of the court I am faced with difficult and challenging decisions on a daily basis. I see the role of Council in the same light. Difficult decisions require a thoughtful and inclusive process. I have been successful in my position as Court Administrator because I work collectively with my team members. We strive to effect positive and lasting change whether it be policy, reform or procedure by collaborating with those who will be impacted, and this includes the community members. Similarly, for Lakewood City Council, the community needs to be an integral part of the decision making process.
My twenty-five plus year career in public service is a testament to my commitment to helping others to improve their lives, to keeping communities safe and supported by solid public services and resources. As a member of the Lakewood YMCA Advisory Board for many years I observed first-hand the needs our community members require. Working to provide access to resources to those less fortunate is a responsibility for council to continuously explore. If elected to the Ward 1 Council seat I will bring a unique and valuable work experience that is directly attributable to the responsibilities required of council. My goal is to work as a unified team to focus on "what is in the best interest" for our community. We need to vet how our decisions will impact the citizens, public services, the businesses, schools, housing, safety, wellness and all the components of Lakewood. My husband Rich and I have lived in Lakewood over 30 years. We raised our three children in this community. We saw a lot of change and experienced some trying times. We stayed when friends headed to the suburbs. We chose to invest in Lakewood because we love it.
Tess Neff
I am a 30-year Lakewood resident. My husband Rich and I raised our children here and we both have worked in the community. I love Lakewood and its uniqueness.
Read More on City
Volume 15, Issue 15, Posted 2:59 PM, 08.07.2019