Former Local Poet Dillon Bodnar Publishes Second Volume Of Poetry, "Harmonic Emotions: A Resonating Assembly Of Reflections"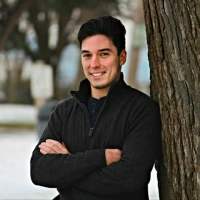 I am so proud as Dillon's Editor and Press Agent and Publicity Chief to introduce to you, "Harmonic Emotions: A Resonating Assembly of Reflections," his second volume of poetry! Dillon moved to Lakewood at age 3 and went through Lakewood City Schools where his talent for poetry was recognized and nurtured from a very early age. After graduating from Lakewood High School, Dillon attended Rensselaer Polytechnic Institute in Troy, NY and earned a Physics Degree in 2017. Up until recently, he was building lasers for Spectra Physics in Silicon Valley, CA where he moved after college graduation. Dillon's "Music of Our Spheres: A Roundabout Collection of Ruminations," his first volume of poetry, was published in 2014 when he was only 19. It consisted of poems he wrote between the ages of 10 – 18 and received wide acclaim from readers and critics alike. "Harmonic Emotions: A Resonating Assembly of Reflections" includes poems written between ages 19 – 23, plus some early childhood gems.
Here's the judge's commentary from the 22nd Annual Writer's Digest Book Awards 2014: "Dillon Bodnar is a talented young poet who has written and produced an interesting collection, Music of Our Spheres: A Roundabout Collection of Ruminations. Bodnar's "ruminations" are far-ranging as he discusses a number of topics in varying styles and approaches. His poems can be lengthy, but they're not self-indulgent or bloated, and his I natural ear for rhythm usually carries the lines along. Often his lines show genuine craft and control, with deftly chosen images and strong compression and tension. Such an example is "Mellen's" which describes melons as "like delicate pearls / that they don as they greet the day / with juicy joy and liquid love." Some verses show humor and whimsy, as when Bodnar pays tribute to his "little pulchritudinous moo box." One of the best poems is "Grandmother (Mahogany Framed)," a loving portrait formed of such lines as "And her bottle-lenses don't / Block the joy of a young soul in a body of wisdom." Music of Our Spheres: A Roundabout Collection of Ruminations presents as an attractive volume. Bodnar presents an impressive debut collection of his poetry; one hopes he won't abandon poetry entirely to the study of particle physics."
Dillon's poetry now is even richer and deeper, as he continues to master his craft and his world views mature. The quiet beauty of Dillon's poems is underlined by the richness of his word choices. He's not always subtle, but he knows how to step back and allow a poem to breathe. Poetry cannot be judged. It comes from the heart and soul of the poet himself; it is his dream, his pain, his gripe with the world. It is his gut reaction to social injustices. Dillon has a deep interior place in his soul and there is beautiful buried treasure there. He has an uncanny ability to excavate it and bring it to light for us to examine it closely on the surface. Those who are deep thinkers can delve below the surface and find many more levels. If we are patient, we can peel off many layers to reveal his poetry's inner seeds of wisdom. Dillon doesn't reveal all to everyone and that's ok. Some things are best to remain hidden in the heart.
His poetry is a lesson in resilience, courage, endurance, humor and wit. It is both colorful and ebullient and at other times, downright painful and difficult. The impact that music, nature, God and the culture around him have had as he creates his poetry is evident. He invites us to be more intimate and compassionate in considering life as it hurls itself toward us.
Dillon says, "In this book I can't say I've found any such answer, since I'm only one person. Some of the paths I take within lead to dead ends. Some are absurd or impossible, and may leave you as they left me, with a kind of distraught dumbness, born from a failure to solve the math of our own chaotic histories. Some paths are a black box from which little sense can be made. And some are clear and straight, but still fail to completely comprehend or capture our insane, beautiful universe. But you, dear reader, in beholding these reflections, my fleshy little diagrams of misbegotten rhyme and rhythm, you enfold them into your thoughts, and quanta from my own essence comes to resonate between your brain cells. What particles of thought will play and interact there? None can see. What profound energies will propagate out the other side? Only time will tell. I hope you enjoy my newest collection of poetry."
Call Mary Bodnar at 216/392-4944 and she will deliver a book for $14.99 to your home out of her trunk, if you live locally. (Save shipping and handling and put the money in the poet's pocket where it belongs and not Amazon.com, where the book is also available.) So come on board for Harmonic Emotions, and see what poems resonate with you. Get a dose of sonic perfection, delivered in high style, from our incomparable lovable Dillon J. Bodnar. I am so blessed to be his Mom!
Mary Bodnar
Mary Bodnar is Marketing Manager as well as Licensed Property & Casualty Insurance Agent for Gordon Tower Insurance Agency at 14701 Detroit Ave, Suite # 362 Lakewood 216/663-7777. She is also professional freelance writer who has been published in a wide range of newspapers and magazines – Great Lakes Mariner Magazine, Your Boat Connection, Cleveland/Akron Family Magazine, Lake Erie Living Magazine, CBC (Cleveland Business Connect) Magazine, Cleveland Jewish News and many other newsletters and publications over the years. She is also Editor and Press Agent for the book "Music of Our Spheres: A Collection of Ruminations" by Dillon Bodnar available on Amazon.com. She is co-host of Word Lovers Writers Retreats in Lakeside, OH w/writer friend Claudia Taller. In addition she was the Theater Critic for the Lakewood Observer Newspaper as well as being a regular contributing writer covering human interest stories for the Lakewood Observer. Mary also conducted all the extensive interviews with five ordained women that formed the core of the multi-media production "Making Waves" play. She is also an established workshop presenter and has shared her love of poetry, not only through her dance performance programs but as a poetry writing educator with a variety of groups. Her Odes Writing Poetry Workshop has received accolades from attendees. As a volunteer, she also writes and is the copy editor for her church website and other church publications.
Read More on Arts
Volume 15, Issue 15, Posted 2:59 PM, 08.07.2019