Scholarships Are Not Just For Children, Thanks To Lakewood Resident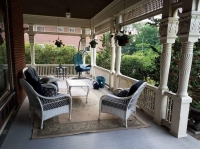 Lakewood resident Brandi Larsen is giving mothers the chance to complete their creative projects.
Her Finishers' Club for Mothers Retreat is set for May 11, 2019, but she doesn't want cost to inhibit mothers from their goals.
Larsen said, "It's really hard for mothers, especially, to spend on ourselves. There is so much that we prioritize before ourselves. Whether it's time or money, we don't say yes to us. I want to change that."
Larsen designed the Finishers' Club retreat to give mothers the time, space, and community to get their project off their to-do list and into the world. For $180, participants will gather on the Saturday of Mother's Day Weekend from 11 a.m. to 4:45 p.m.
"Too many of us have started projects that we never find time to finish. The single-day retreat set in a gorgeous, historic mansion that's an easy drive west of Lakewood, will give us enough space to get into a retreat mindset and do the work, and it's still manageable for moms with the responsibility of young kids."
Larsen will lead creative exercises and coach attendees on how to meet their goals of finishing projects like articles, essays, short stories, speeches, book chapters, scripts, and agent/editor pitch letters, drawing on over two decades of journalism and publishing experience.
"I'm most excited about the community of mothers who will come together. It's transformative to sit beside women working as hard as you to turn a dream into reality. I'm offering scholarships because, whether you can pay or not, I believe that the world needs your work."
Full and partial scholarships are available. Complete the online application (http://bit.ly/finishers-club-scholarship) to apply. Final deadline to apply is April 30, 2019.
Brandi Larsen finishes what she starts, and she wants to help other mothers do the same.
Brandi Larsen is a writer, speaker, coach, and Lakewood resident. An innovative expert in journalism and book publishing, she's helped create New York Times bestsellers and earned Emmy nominations. She's spoken at Harvard Business School, Book Expo America, and the Writer's Digest Annual Conference, among others. Brandi is passionate about helping her community and sits on the Board of Literary Cleveland and is active in the LECPTA.
Read More on Arts
Volume 15, Issue 7, Posted 7:53 AM, 04.03.2019