Poetry + Presents Kevin Latimer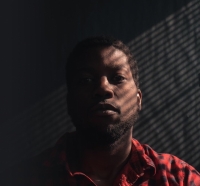 Poetry + is a monthly reading series hosted by Art on Madison for emerging and established writers in Cleveland and surrounding regions. Poetry + aims to shine the spotlight on a single writer, providing them with the platform and time necessary to present a body of their work and to connect with their audience. Each presenter is given the freedom to decide the materials and anecdotes they will share and can determine the duration of their reading. Poetry + is open to all forms of poetry, short and flash fiction, and performative happenings.
Doors open at 7 p.m. and the reading begins at 7:30 p.m. Poetry is free and open to the public.
April 16th Poetry + presents Kevin Latimer.
Kevin Latimer is a poet and playwright from Cleveland, Ohio. He is a Co-founder & Co-Editor-in-Chief of BARNHOUSE. His work has appeared in or is forthcoming from FEELINGS, TRACK//FOUR, A VELVET GIANT.
His one act play, 4 BLACK BOYS 2 B ASTRONAUTS debuts with The Manhattan Project in the summer.
Art On Madison Gallery is located at 14203 Madison Avenue.
ivan kende
Art on Madison gallery 14203 Madison Avenue exhibiting regional artists and performers
Read More on Arts
Volume 15, Issue 7, Posted 7:53 AM, 04.03.2019