Purim Party With Jewish Lakewood Alliance And JHUB!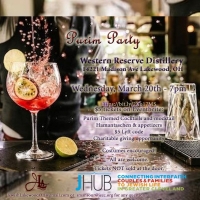 Jewish Lakewood Alliance will be having a Purim Party with JHUB on March 20, 2019 at 7 p.m. at the new Western Reserve Distillery.
The night will feature a Purim-Themed cocktail (and mocktail) list, Hamentaschen, some light food, and a Purim spiel organized by Samia of JHUB Young Adults programming.
We will have 3 local charities joining us:
Operation Welcome Mat
Drink Local. Drink Tap.
Ohio Innocence Project
$5 tickets include a complimentary cocktail/mocktail. Tickets are limited and will not be sold at the door.
Tim Collingwood
I am a Lakewood resident who has written blogs for Tumblr and Turner Classic Movies, and was the Akron Classic Movie Examiner. I would like to write about issues pertaining to social justice issues and how they are affecting the Lakewood community. I believe in the power of citizen journalism.
Read More on Out & About
Volume 15, Issue 6, Posted 1:00 PM, 03.20.2019