LHS Soccer Star Named Male Athlete Of Year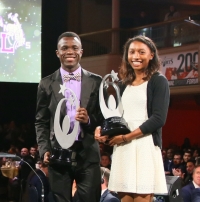 Congratulations to Lakewood High senior and soccer All-American Malvin Gblah on winning the Greater Cleveland Sports Awards' Male High School Athlete of the Year honor! Malvin was one of three finalists for the award, which was given at a ceremony hosted by the Greater Cleveland Sports Commission on February 7. Malvin's accolades, in addition to his All-America award earned earlier this year, include:
2018 OSSCA All-Ohio First Team
2018 All-Greater Cleveland Player of the Year
2018 All-Greater Cleveland First Team
2018 All-Lake Erie Regional Team
2018 All-Southwest Conference 2nd Team
2018 GCSSCA All-Star First Team
Malvin, who was named an All-American in December, has compiled one of the most prolific careers in Lakewood High School history: he played in the fourth-most games (71), had the third-most goals (45,) and the most assists (31). During the 2018 season, Malvin registered 18 assists, which is tied for the most in a single season.
Malvin's success is even more remarkable when you consider that he came to the United States four years ago from an African refugee camp. Malvin was born in a refugee camp in the Ivory Coast, on the northwestern tip of Africa. His family was fleeing the violence of civil war in Liberia. Once in the United States, Malvin's family found its way to Lakewood where Malvin found his home both in the community and on the soccer field.
Read More on Sports
Volume 15, Issue 4, Posted 2:41 PM, 02.19.2019