I Haven't Buzzed Off Just Yet: Reviews Of Recent Releases By Local Bands, Pt. 85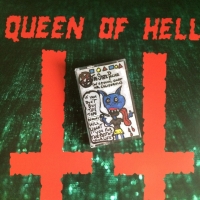 Mr. California & The State Police - The State Police Featuring Members Of Mr. California - self-released? - 21 songs - cassette
This tape is, I suppose, Mr. California's last release as an Ohioan, as he's gone back to California for the time being. The title of this tape is actually pretty accurate, because most of the songs on here are instrumentals that don't exactly "feature" Terry, the man known as Mr. California, but instead his backing band/drum machine The State Police. The two tracks that have vocals are "Like To Get High" and "BLS," both pretty okay songs. The issue arises from the fact that a good few of these sound like typical Mr. C and The State Police songs with the vocals missing, which just kinda makes you go, "well, where are the lyrics?" That's not to say that there aren't songs on here that hold their own as instrumentals. The best of the bunch are the ones that sound like demented video game soundtracks, like "Sledding Up The Mountain," "Good Morning, Saint," and "Sonic On Acid And Speed," which could actually be the music from Sonic, I really have no idea. Definitely not the place to start with Mr. California, but if you've always wanted to hear more of his instrumental/compositional capabilities, this is for you. Also worth buying for any Mr. California fan for the insert alone.
(I don't even know who put this out or where to get it. Try a local record store?)
Queen Of Hell - Queen Of Hell II - Phoenician MicroSystems - 8 songs - LP, digital
The Queen returns with a full album– and this time, there are three bass players on it! Sadly, not all at once, but still. I think that this time around, the band sounds more "focused" or some reviewery term like that; it's a more cohesive sound instead of going all over the place. This is not in any way to disparage the first record, which I think is totally great. There's a good few absolute rippers, like the opening track "The Soul Exchange," the more glam-sounding "Ball Drivin' Insane," and especially "Death II Die," which is the centerpiece of the album as far as I'm concerned (it goes to this slow jam with a bass solo and clarinet and all this and it really lays it into you and then rips right back into the song– you really gotta hear it). "Queen Of My Nitemares" is a good heavy response to Heavenly Queen's "Queen Of My Dreams"– I thought they might just do the former song with different lyrics, but no, it's totally its own thing (and hey, speaking of, when is the Queen Of Hell version of "White Vines" coming out?). "The Path To Zen" is a weird closer, since it's real mellow and reverb-heavy with jazzy guitar playing, but at the same time it works really well. There are plenty of shredding guitar parts, sorta-ridiculous but at the same time great lyrics, great driving rhythm section moments, and just a general sense that this band knows how to have fun, which I think is really important to have in music. Here's the bad part: the mastering for the vinyl version of this is…look, to be harsh, it's not good. It's very flat. I know this isn't my place to say, really, I'm just here to talk about the music itself, but it's gotta be particularly bad for me to take notice of it when I know that's not what I'm supposed to be doing. The only way to get anything at all out of it is to really crank it up. "Aha!" the Queen bellows back at me. "But you should be playing it at maximum volume anyway, so no harm done!" But look, if I'm playing a record that loud, I want it to sound great. I don't want to have to do that just to make it so I'm not distracted by how flat it is. I haven't used my download code yet (which involves emailing the band and probably something about a blood sacrifice), but I'm told that the digital version doesn't have this problem. I'm entirely loath to recommend a digital version of anything ever, so I'm just putting these facts out there. Or you can buy the record and turn it all the way up and kill everyone in the surrounding area (and I mean that in a good way), it's your call. Oh, and the title of this one might not be "II" but "Upside Down Cross Upside Down Cross," but I couldn't figure out how to type that. God save the Queen. 4/5
(queenofhell.bandcamp.com)
Are you a local-ish band? Do you have a record out? Email vaguelythreatening@gmail.com or send it directly to Observer headquarters: The Lakewood Observer, c/o Buzz Kompier, 14900 Detroit Avenue, Suite 205, Lakewood, OH 44107.
Read More on Arts
Volume 15, Issue 4, Posted 2:41 PM, 02.19.2019