Calling All Artists To Join Lakewood Art League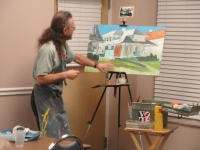 Please consider joining the Lakewood Art League! Now is our membership drive for 2019. We meet the third Thursday of the month. Come to our first meeting to kick off 2019 on Thurs Feb 21st from 7 to 8:30pm at our beautiful new space in the Café of Lakewood United Methodist Church, 15700 Detroit Ave!
Our membership fee is only $20 annually and we get fabulous artist presenters for our meetings as well as art show opportunities for our LAL members, making it a great bargain. We have the Westlake Porter Library Art Show for Lakewood Art League, at 27333 Center Ridge Rd, coming up from March 2 – March 30, 2019. Join now and your artwork can be on display there with ours!
The mission of Lakewood Art League is to connect the Lakewood Art Community through diverse, dynamic, and creative experiences that bring artists of all walks of life together to meet, create and talk about contemporary visual art. Our mission is to retain a dedicated art league membership which is deeply committed to promoting art and art education by bringing in a wide variety of artists to speak and teach on their particular artistic craft each month. We then place an emphasis on the value of visual art in our contemporary lives as artists living in and impacting our community.
We are constantly seeking innovative art speakers and presenters to enhance our programming for our members as well as holding monthly meetings that build community in our group, promote art education, and outreach to attract artists in our community to join our League. We welcome ALL members of our diverse community and seek opportunities for interaction and access for artists of all ages. Art is for everyone. Creativity is at the heart of everything we do. We provide opportunities for our members to learn about art, themselves, and each other. Learning is an integral part of all of our programs.
The Lakewood Art League improves quality of life for our members and contributes to the vitality of our city. We continue to evolve and grow as an organization to keep pace with our vibrant city and the arts landscape in which we live. We look to the future while celebrating creating art in the past since our founding in 1950. Call 216/392-4944 for more info. Always looking for New Members!! President - Mary Bodnar, Vice President - Troy Blum, Exhibit Chair - Robert Perry, Secretary - Pat Shaughnessy, Treasurer - Paul & Sue Collander, Hospitality & Refreshments - Rose Dugan.
Mary Bodnar
Mary Bodnar is Marketing Manager as well as Licensed Property & Casualty Insurance Agent for Gordon Tower Insurance Agency at 14701 Detroit Ave, Suite # 362 Lakewood 216/663-7777. She is also professional freelance writer who has been published in a wide range of newspapers and magazines – Great Lakes Mariner Magazine, Your Boat Connection, Cleveland/Akron Family Magazine, Lake Erie Living Magazine, CBC (Cleveland Business Connect) Magazine, Cleveland Jewish News and many other newsletters and publications over the years. She is also Editor and Press Agent for the book "Music of Our Spheres: A Collection of Ruminations" by Dillon Bodnar available on Amazon.com. She is co-host of Word Lovers Writers Retreats in Lakeside, OH w/writer friend Claudia Taller. In addition she was the Theater Critic for the Lakewood Observer Newspaper as well as being a regular contributing writer covering human interest stories for the Lakewood Observer. Mary also conducted all the extensive interviews with five ordained women that formed the core of the multi-media production "Making Waves" play. She is also an established workshop presenter and has shared her love of poetry, not only through her dance performance programs but as a poetry writing educator with a variety of groups. Her Odes Writing Poetry Workshop has received accolades from attendees. As a volunteer, she also writes and is the copy editor for her church website and other church publications.
Read More on Arts
Volume 15, Issue 4, Posted 2:41 PM, 02.19.2019