Rangers Edge Bay in Senior Night Thriller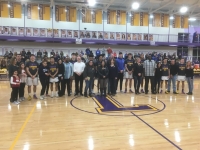 Lakewood senior Tommy Sala hit a pair of clutch free throws with 1.5 seconds left to secure a 52-51 win on Senior Night. Sala scored the final six points of the game to help the Rangers overcome a 51-46 deficit with 2:25 left in the game. The nonconference win over Bay lifts Lakewood's record to 14-6 on the season. The game was preceded by a ceremony honoring the team's nine seniors: Shannon Cotto, Christian Marcano, Derek Walker, Tim Smith, Zion Kolodynski-Darby, Tommy Sala, Dominic Wahba, Alex Bransteter, and Delvaun Phillips. This group has gone 36-9 over the past two seasons, and was key to last year's conference championship.
The game was evenly played throughout, and matched Bay's perimeter shooting game against the Rangers tall front line. Bay jumped out to a quick 7-2 lead behind a couple three pointers from senior Max Schowalter. Lakewood responded with a 12-6 run to take a 14-13 lead after the first quarter.
Lakewood stretched the lead to 28-23 at the half, despite the fact Bay held Sala to only one field goal in the first two quarters. The Rangers held the lead in the third quarter, as a late three pointer helped them to a 42-37 lead at the break.
Bay came out strong in the final quarter, hitting a trio of three pointers during a 9-2 run. Rocket senior Erik Painter then hit a pair of free throws that gave Bay a 48-44 lead with 3:42 remaining. Kolodynski-Darby cut the lead to two with a basket, but Painter responded with a three pointer that gave Bay the 51-46 lead. The Rocket cheering section exploded with excitement as Lakewood seemed to be on its heels.
Sala took over at this point, cutting the lead to 51-48 with a field goal at the 2:08 mark. Lakewood made a defensive stand, and Sala scored again with 38 seconds remaining to make it 51-50. The Rangers again held defensively, and they had an inbounds play with 8.4 seconds left. They went inside to Sala, who was fouled. He made the decisive free throws, which were followed by a desperation heave from Bay. Lakewood won 52-51, as happy Rangers ran onto the court to celebrate.
Lakewood next hosts Amherst on Tuesday night at LHS. That conference matchup will be the final regular season home game of the season. The Rangers will finish the regular season with a road game at North Ridgeville on Friday.
CHEERLEADER FUNDRAISER ON WEDNESDAY
The LHS Cheerleaders are hosting a pasta dinner fundraiser Wednesday, February 20. The event runs from 5:30 to 7:30 p.m. in the LHS cafeteria. It's an all you can eat dinner. Presale tickets ($10 for adults, $5 for kids 10 and under) can be purchased from any member of the squad. Tickets will also be available at the door ($12 adults, $6 kids 10 and under).
Mike Deneen
Mike Deneen has extensive experience covering sports and community stories for the Lakewood Observer. Mike has been a Senior Industry Analyst for the Freedonia Group in Cleveland, Ohio, since 1998. He has appeared on CNBC's Closing Bell, NPR's MarketPlace and has been quoted multiple times in The Wall Street Journal. He has made multiple guest appearances on ESPN Cleveland radio. Mike also writes for Inside Northwestern, a website that covers Northwestern Wildcat Athletics. You can reach him on Twitter at @MikeDeneen1
Read More on Sports
Volume 15, Issue 4, Posted 10:17 PM, 02.16.2019