Rangers Top Westlake in Boys Hoops Action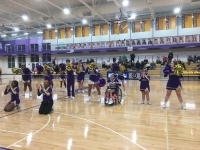 The Lakewood boys basketball team rolled to a 72-50 win over Westlake on Tuesday night at LHS. The victory lifts the Rangers' record to 12-6 on the season. Senior Tommy Sala led Lakewood with 19 points.
Westlake started strong behind the shooting of senior guard Jacob May. May hit the first shot of the game, a three pointer. He made a total of four three pointers in the first six and half minutes of the game, giving the Demons a 14-11 lead. Lakewood tied the game at 16 when senior Tim Smith connected on a three pointer at the first period buzzer.
Lakewood started pulling away in the second quarter, which started with a 7-2 Ranger run. The teams played evenly for the rest of the half, and the Rangers took a 32-26 lead at the break. Lakewood went on a 10-1 early in the third quarter, putting the game out of reach. The lead ballooned to 55-34 at the end of the third period. Both teams were able to use reserve players in the fourth period as Lakewood went on to the 72-50 victory.
Smith finished the game with 16 points; senior Zion Kolodynski-Darby had 8 points; seniors Delvaun Phillips, Alex Bransteter, and Christian Marcano had 6, 5, and 5, respectively. The Rangers return to action Friday night at home against Midview. The SWC conference matchup is scheduled to tip at 7pm, following the 5:30pm junior varsity game.
Mike Deneen
Mike Deneen has extensive experience covering sports and community stories for the Lakewood Observer. Mike has been a Senior Industry Analyst for the Freedonia Group in Cleveland, Ohio, since 1998. He has appeared on CNBC's Closing Bell, NPR's MarketPlace and has been quoted multiple times in The Wall Street Journal. He has made multiple guest appearances on ESPN Cleveland radio. Mike also writes for Inside Northwestern, a website that covers Northwestern Wildcat Athletics. You can reach him on Twitter at @MikeDeneen1
Read More on Sports
Volume 15, Issue 4, Posted 10:24 PM, 02.12.2019