Author Judy McInerney Brings A Renaissance Secret To Lakewood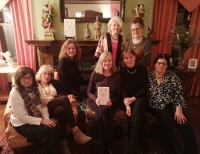 Coming into the Blue Moon Book Club which already has as a member a published Lakewood resident, Barbara Raymond, author Judy McInerney felt a bit nervous. Her son-in-law Greg Schroeder, whose mother Eleanor Detke had arranged the event had assured her of a warm welcome and an engaged group of enthusiastic readers.
They were there to talk about her novel, "The Pumilio Child," an unsettling thriller that challenges the idea that Italy during the Renaissance was cultured and refined. The day-to day reality was surprisingly different.
The main question of the evening was, what had been the inspiration behind the novel. An exhibition at the Royal Academy in London of the paintings of Andrea Mantegna, a famous Renaissance painter, had piqued McInerney's initial interest, and her research dredged up a really chilling secret which formed the sub-plot of the novel. Further research also showed her that captives from the east were brought down the Silk Routes and sold at slave markets in Venice.
When looking at the characters in Andrea Mantegna's dazzling family fresco in the Gonzaga palace in Mantua, Italy, McInerney imagined the ruling family and their courtiers coming to life to reveal the story of a young slave woman. What if a young educated Chinese woman from a family of culture and privilege in the Ming Dynasty Beijing were to be abducted and shipped to the slave market in Venice and bought by Mantegna to become part of his household. How would she survive? And when this terrible secret came to light would she dare tackle the power of the Gonzaga court and stop it from happening?
McInerney need not have worried about her reception. The ladies of the Blue Moon Book Club turned out to be a stimulating and very convivial audience. The evening provoked some demanding lines of inquiry and discussion, along with plenty of laughter. With new friendships formed the author felt it was worth crossing the pond and everyone agreed it shouldn't be a once in a blue moon event.
Eleanor Detke
Lakewood resident. Member of Blue Moon Book Club.
Read More on Lakewood Living
Volume 15, Issue 3, Posted 3:56 PM, 01.22.2019